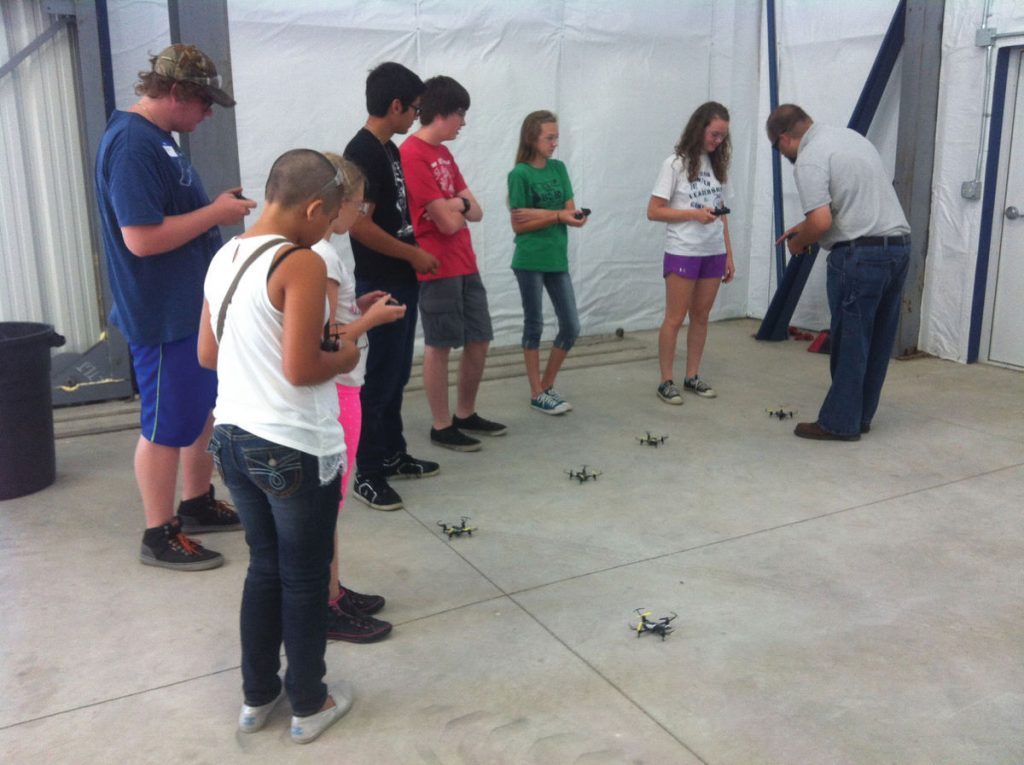 US: Tioga Municipal Airport held its first Drone Camp for Kids last weekend to promote science, research, and education. The two-day long camp, sponsored by Tioga attracted 79 students from grade six to twelve. Each student who completed Saturday's lessons on drone use, safety, and privacy got to fly their own camera-equipped, remote-controlled drone on Sunday, and they got to keep it upon graduating the camp.
Saturdays speakers included UND's Associate Professor of Aviation Dr. John Bridewell, Mike McHugh of the ND Aeronautics Commission, and Max Adon from the Minot Hobby Lobby. While most of the students were residents of Tioga, some travelled from Grand Forks and Bismarck to attend the event.
"I'm ecstatic about the turnout," Dennis Lindahl, director of Tioga Economic Development said outside the airport hangar Sunday afternoon, as kids finally got the chance to fly their drones. "North Dakota is quickly becoming the drone capital of North America, [and] our goal with this camp is to bolster our schools and better educate our students in science, technology, and engineering."
Drones are going to play a very integral role in our major economic sectors, oil and agriculture, Lindahl said.
Dorn Martinson, drone-enthusiast and single-parent of two excited camp attendees, agrees with Lindahl and is positive about the future uses of drones for research and education, but he also feels they're an excellent hobby. Martinson and his two children have plans to start a drone building and racing club and incorporate it into their ATV/go-cart/motorcycle track and paintball field, which they call Splatter Farm.
Dorn initially got his first drone a few years ago to photograph and film backcountry sports in Colorado, and his 10-year-old son, Noel, who is building his own six-motor quadcopter that he plans to equip with a paintball gun, got into building them almost immediately after. "Drones can provide data mapping for farmers, mapping the entire field.
They can show where weeds are, fungus, where they need to spray. They're good for searching for cattle. We just did a lost dog rescue with a drone," Dorn says. "And I killed a fly with mine last week!" his daughter chirps in. "Yes, most importantly," his eyes sparkle, "They kill flies."
"Next year," Dennis says, "we plan to expand the program to include adults, and to make the course accredited by the Unmanned Aerial Vehicle Program."