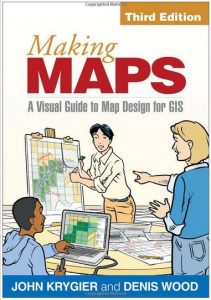 US: The third edition of John Krygier's "Making Maps: A Visual Guide to Map Design for GIS" has been released. The new edition contains over 40 pages of new content, which has been written by John Krygier and Dennis Wood.
It features over 35 new maps, and updated and expanded discussions on a variety of topics including when mapping is inappropriate, time and mapping, and geodata locational services and privacy.
Krygier is the author of the well regarded Making Maps: DIY Cartography blog and teaches at the Department of Geology and Geography at Ohio Wesleyan University.  He is also the creator of one of my favourite cartographic terms, cartocacoethes, which he defined as "a mania, uncontrollable urge, compulsion or itch to see maps everywhere." His co-author, Dennis Wood, is a former professor of design at North Carolina State University.