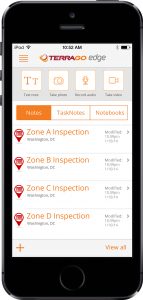 Germany: TerraGo, a leading enterprise mobility and geospatial collaboration software, will be displayed at INTERGEO 2017 in Berlin.
TerraGo's geopdf products enable lightweight GIS applications and they have become an industry standard, and are helping users get more value from their current investments in GIS. TerraGo magic is a revolutionary trendsetter in geospatial mobility. It allows end-users without any significant development skills to make custom applications enabling GNSS with advanced GIS and mapping features on Android and ios platforms.
Stuart Miller, International Sales Manager at TerraGo, says "INTERGEO brings together the global leaders of the industry and creates an exceptional forum for interpersonal collaboration and the opportunity to show the industry's only zero-code platform to visitors from nearly 100 countries"
"The event gives us a chance to dialogue and understand our visitors' goals before we demonstrate our technology. Then by understanding their specific objectives, we can show them how to customize geospatial apps for their unique requirements." he adds
TerraGo will be showcased at the UK Pavilion, Hall 1.1, Booth D1.016. More information can be found at the website.