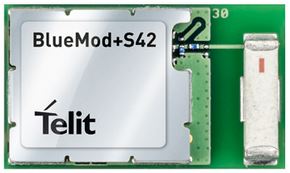 UK: Telit Technologies has announced the commercial availability of its BlueMod+S42 Bluetooth 4.2 module, and two variants of the popular SL869 single and multi-standard positioning module family, the SL869-V3 and the SL869-ADR.
The BlueMod+S42 complies with the Bluetooth SIG v4.2 standard, which features critical upgrades, making Bluetooth low energy (BLE) applications faster, and more secure. This powerful high-end Bluetooth low energy module is an ideal solution for industrial applications such as electronic locking systems, lighting control, measuring, iBeacons; and for medical devices such as insulin pumps, hearing aids and wireless foot control.
The SL869-V3 and SL869-ADR are multi-constellation Global Navigation Satellite System (GNSS) receiver modules, each capable of tracking and using up to three constellations simultaneously to produce positioning, velocity and time information.
Telit also announced that it is collaborating with Wirepas to deliver simple and easy to use intelligent IOT networks. Its BlueMod+S42 platform is the first to embed the groundbreaking Wirepas Connectivity technology, a decentralized radio communications protocol that eliminates the need for traditional repeaters making every wireless device, a smart router in the network.
"We are extremely proud to be a Telit partner, as the company is one of the true frontrunners in Industrial IoT. Our product, Wirepas Connectivity being integrated by Telit, delivers an autonomous, device network that has deterministic performance at any scale. Together with Telit we can help our customers connect their devices with 24/7 availability and to innovate in products and services," said Teppo Hemiä, Wirepas CEO.
Telit is also introducing new developer kits to enable rapid prototyping of solutions based on the new and upcoming modules. All three products follow the Telit tradition of excellence in radio-frequency (RF) design and performance in industrial-grade environmental conditions.