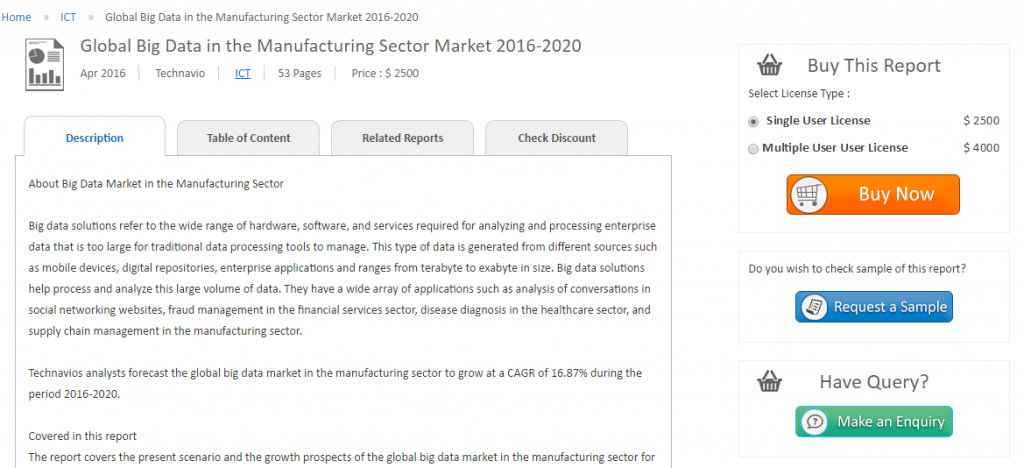 US: Market research firm, Technavio has released a Global Big Data Market report on manufacturing sector this week. The report predicts the Global Big Data Market to soar at a CAGR of 16.87% by 2020. Demand for big data in manufacturing is poised to surge as the volume of data being stored by the manufacturing sector continues to grow.
The market is also expected to gain impetus from the need for developing competitive strategies. A new analysis added to the repository of Market Research Hub studies the prospects for the global big data in manufacturing sector market in detail. The report is titled "Global Big Data Market in the Manufacturing Sector 2016-2020," and is available for sale on the company website.
Demand for big data solutions is increasing at a robust pace since they provide relevant information about an enterprise's performance. They also help companies to effectively store a large volume of data generated on a daily basis, ranging from employee details to product portfolio. The report also focuses on various factors that influence the global big data market.
The report has attributed factors such as the advent of M2M technology for the robust growth that the market is likely to exhibit in the near future. The M2M technology enables machines to securely connect and interact over a network. The surging demand for the technology in the IT and manufacturing landscape is driven by its ability to track safety and security measures, provide remote access, and ensure 24*7 monitoring and automated energy responses.
Furthermore, the ability of the technology to enhance IT efficiency for government operations and businesses by automating processes and enterprise resource planning will augment its growth pace over the next few years.