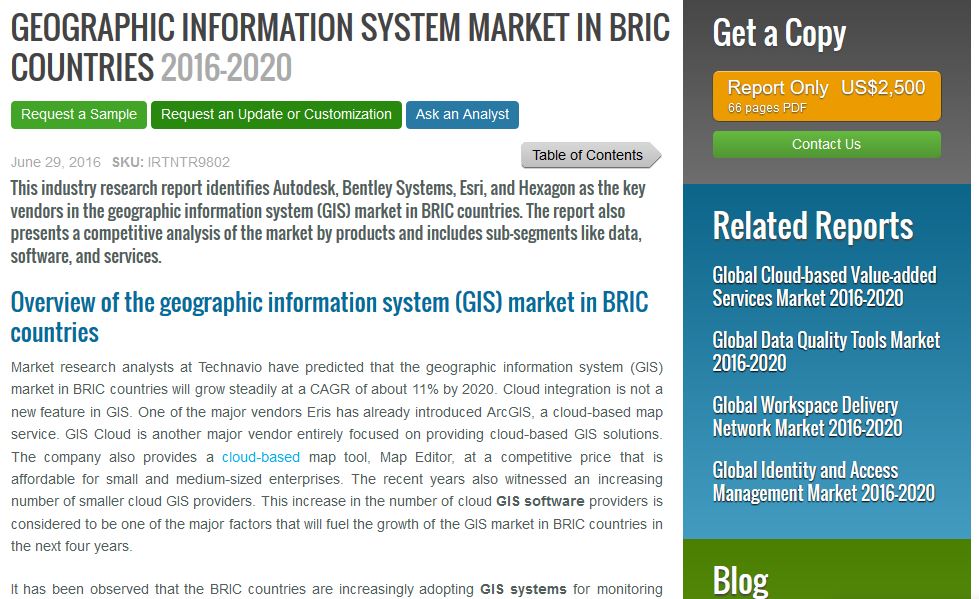 Canada: Technavio has added the "Geographic Information System Market in BRIC Countries 2016-2020" report to their offering. In the report, Technavio announces the top 14 leading vendors in their recent geographic information system (GIS) market in BRIC countries by 2020. The report includes an up-to-date analysis and forecasts for various market segments and emerging market trends.
According to Amrita Choudhury, an expert in enterprise application field at Technavio, "The GIS market in BRIC countries is highly fragmented with the presence of well-diversified international, regional, and local vendors. The competition in the market will become intense with the increase in service extensions, technological innovations, and M&A. International players will grow inorganically by acquiring regional or local players during the forecast period."
Click here to request for sample report
Top 14 GIS market vendors in BRIC countries
Autodesk
Headquartered in California, US, Autodesk is a multinational design software and services company that provides customers business solutions through technology, products, and services. It has customers in the architecture, engineering, and construction; manufacturing; digital media; consumer; and entertainment industries worldwide. The company conducts R&D primarily in Canada, China, Singapore, and the US. The company offers Infrastructure Map Server in GIS which is used for publishing and sharing GIS map and asset information with web-based GIS mapping software. In addition, it is used to visualize, access, and coordinate enterprise data with workers and the public using web-based mapping dashboards and reports.
Bentley Systems
Established in 1984, Bentley Systems designs, develops, and markets software solutions for architects, engineers, geospatial professionals and constructors, worldwide. Bentley Map is a desktop GIS software used for sharing geospatial information in MicroStation, a CAD software developed by Bentley. The software performs 2-D and 3-D analysis with tools for overlaying and buffering. It can also model geospatial objects. It has the ability to develop custom GIS applications. GIS maps contain a detailed list of documentation, samples, and extensive API support. The software has the ability to access and manage spatial data from providers such as Oracle Spatial, Microsoft SQL Server, and Esri File Geodatabase.
Esri
Esri is headquartered in Redlands, California, US, and offers GIS, related software, and geospatial analysis products using the ArcGIS platform. It has customers in various industries such as business, government, utilities, and communications. It has more than 350,000 clients globally and has partnerships with over 1,800 companies. The company has a wide global presence. The company provides products under three categories: ArcGIS Online, ArcGIS for Desktop, and ArcGIS for Mobile. These products are developed on the ArcGIS platform that features with real-time GIS, spatial analysis, content management, mapping and visualization, imagery and remote sensing, CAD, data management, and community engagement.
Hexagon
Hexagon is a provider of integrated design, measurement, and visualization technologies. It allows customers to measure and position objects and design, process, and present data through its technologies to stay ahead of the changing world. The company caters to the surveying, automotive, manufacturing, public safety and security, aerospace and defense, and infrastructure and construction industries. It operates through more than 40 offices across Europe, the Middle East, and Africa; the Americas; and Asia-Pacific.
Apple
Apple is a publicly held technology company that designs and manufactures media devices, mobile communication devices, PCs, and portable digital music players. Apple provides 3-D mapping services. Apple introduced 3-D graphics on the Mac computer for graphic designers and programmers in 2009. In October 2011, Apple commenced 3-D mapping services for iOS with the acquisition of C3 Technologies, a provider of 3-D mapping solutions with photorealistic models for search, navigation, and GIS.
Autonavi
Autonavi was founded in 2001 and is headquartered in Beijing, China. In 2014, it was acquired by Alibaba Group. The company provides mapping data to Apple and Google. They have a map application known as Amaps, which is supported in many mobile platforms such as iOS, Android, BlackBerry, and Windows. Amaps auto is the software used in the automotive industry for voice navigation.
CARTO
CARTO is a software-as-a-service cloud computing platform developed by Vizzuality. CARTO became an independent company in 2014. One of the major features that helps to distinguish CARTO from other competitors is Torque, a visualization that depicts changes in location-related data over time. CARTO GIS software has four components. They are web application, Maps API, CARTO.js library, and SQL API. The Beijing City Lab is China's open urban research network dedicated for studying Beijing. The lab consists of a group of geographers, planners, architects, and economists, who analyze maps to understand urban dynamics and to obtain new insights. Beijing City Lab uses CARTO to inform the public regarding the effect of China's changing social landscape on Beijing.
Digital Globe
Digital Globe is a major geospatial content and high-resolution earth imagery provider based in Westminster, Colorado, US. The comapny also partners with Esri and provides high-resolution satellite imagery and foundational imagery.
GIS Cloud
The company is based in London, UK. It is a data hosting, publishing, collecting, and fleet management systems software provider. The company provides many tools to organizations to create maps and to share them online. Unlike the traditional mapping approach, GIS Cloud does not use the raster tile mapping method. It uses the vector tiled serving platform, which is highly user-friendly. The vector visualization engine is based on the Adobe Flash Platform for providing a desktop-like experience in the browser.
Google
Google Maps is the web mapping service application that was developed by Google in 2005. Google Maps enables customers to view aerial images of places of interest. Google has initiated map content partner programs to enrich basemaps with data updates by users. Its partner program allows users to improve maps and geography through editing by constantly changing places, thus keeping the maps up to date. The program allows users to add their authoritative vector data to Google's Basemap, which will help users to improve navigation through community with new roads, housing developments, bike paths, major landmarks, and critical infrastructures such as police stations, hospitals, and airports.
In August 2015, the company updated its search and maps application to support Open Location Codes. Open Location Codes are short location identifiers derived from longitude and latitudes coordinates that can be decoded and encoded offline.
HERE
HERE is a major company in the mapping industry and is owned by three automotive companies: Audi, BMW, and Daimler. The roots of the company lie in an American company called Navteq, which was founded in 1985. In 2008, Nokia acquired Navteq and made it a part of Nokia Maps. In 2015, it was renamed as HERE and sold to Audi, BMW, and Daimler. The company provides location services and mapping data to clients such as Facebook and Microsoft Bing.
Mapbox
Mapbox is headquartered in Washington, DC, US. It is a provider of online maps for companies such as Uber Technologies, Evernote, and Pinterest. The data required for creating the maps are collected from both open sources such as NASA and open street maps and proprietary sources such as Digital Globe.
Microsoft
Bing Map is a web mapping service application developed by Microsoft. It is based on Microsoft MapPoint and Microsoft Research Maps. Microsoft Bing Geocode Dataflow API, which comes under Bing spatial data services, is the major geocoding software developed by the company.
In 2015, Microsoft planned to stop map data collection and continue maintaining and developing Bing maps using data from partners. As a part of this decision, the company sold some of its technologies to Uber, an American multinational company that operates the Uber mobile app on smartphones, which allows users to book cabs or cars for rideshares using their smartphones.
NavInfo
NavInfo is one of the major map providers in China. The company also provides telematics and dynamic traffic information services. The company provides its solutions to industries including the consumer electronics and automotive industries and sectors including the government sector. Multinational corporations such as Volvo, BMW, and Nissan are customers of NavInfo. The company was the first map development company in China to achieve the TS 16949 Quality Certification in China and the first company to launch a navigation map for pedestrians. The company has service networks in more than 30 major cities such as Beijing and Shanghai and has four R&D centers (Shanghai, Beijing, Xi'an, and Shenyang).