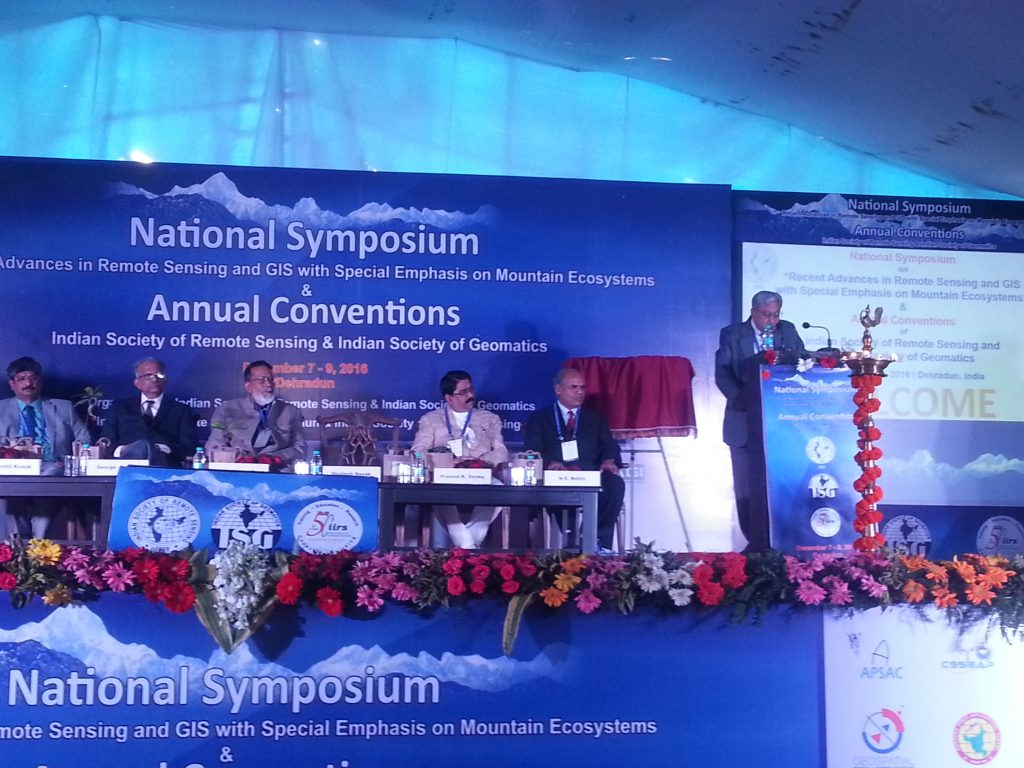 India: Indian Society of Remote Sensing (ISRS) and Indian Society of Geomatics – Dehradun Chapter, recently organised National Symposium on Recent Advances in Remote Sensing and GIS with Special Emphasis on Mountain Ecosystems. The symposium, held December 7-9, 2016 in Dehradun, India, was held in conjunction with Annual Conventions of ISRS and ISG.
Mountain ecosystems, while being very critical for the survival of local communities, are particularly vulnerable to hazards such as earthquakes, landslides, declining snow and glaciers, and avalanches. In the South Asian subcontinent, more than 50% of the population is impacted by the Himalayas. The symposium brought to the fore different ways and means to handle these issues while adopting geospatial technologies.
Contrary to popular perception, social activism does not always imply not anti-development. It can also aim to propagate the use of scientific tools as a decision support system for sustainable development and safeguarding local communities.
Keynote speaker, pioneering Indian environmentalist and social activist Chandi Prasad Bhatt recalled his association with ISRO (Indian Space Research Association) and first brush with satellite imagery to substantiate the social activism findings – regarding forest cover loss leading to landslides, pushing for early warning systems.
He asserted that while disasters, such as the recent Kedarnath disaster, can't be prevented, but their impacts can be mitigated if these tools are adopted. He asserted that in-depth understanding of local factors such as river systems, forest cover, water resource availability, landslides, glacier areas etc should be undertaken before initiating development activities.
The event also witnessed felicitation of eminent personalities in the domain by ISRS and ISG.
| | |
| --- | --- |
| Padma Bhushan Dr George Joseph | Outstanding Scientific Leadership and International Acclaim |
| Dr VS Hegde, Prof Satish Dhawan Professor, ISRO HQ, Bangalore | Bhaskara Award by ISRS |
| Dr A Senthil Kumar | Director, IIRS, Dehradun (Satish Dhawan Award by ISRS) |
| Dr SK Saha, Emeritus Professor, Centre for Space Science and Technology Education in Asia and the Pacific & Former Dean (Academic), IIRS | Satish Dhawan Award by IIRS |
| Dr Sarnam Singh, Dean (Academic) and Group Director, Earth Resources & System Studies Group, IIRS, Dehradun | National Geospatial Award for Excellence by ISRS |
| Shri PLN Raju, Director, North Eastern Space Applications Centre, Shillong | National Geomatics Award – Applications by ISG |
| Dr Ashish Kumar Shukla, Scientist, Space Applications Centre, ISRO, Ahmedabad | National Geomatics Award – Technology by ISG |
| Prof Arup Dasgupta, Former Deputy Director, Space Applications Centre, ISRO , and Managing Editor, Geospatial Media & Communications | National Geomatics Award – Excellence by ISG |
According to Dr Shailesh Nayak, President, Indian Society of Remote Sensing, the symposium brought to the fore the newer geospatial technologies that are coming up for this sector, such as LiDAR, drones etc.
He added that the symposium also shed light on new application areas of geospatial technology in mountain ecosystem, such as planned urbanisation in vulnerable areas, identifying appropriate sites for geothermal energy, managing water resources, amongst others.