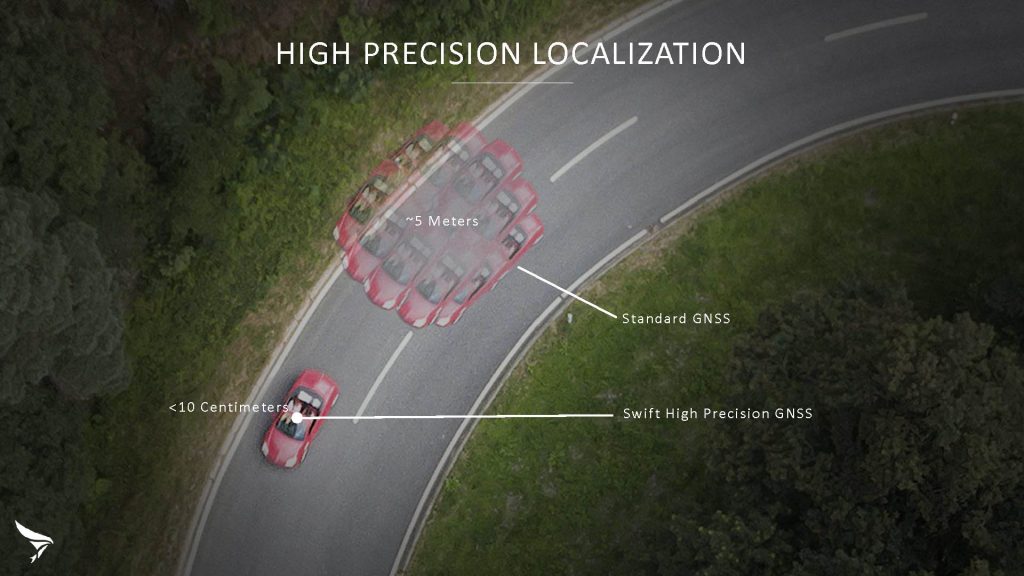 US: Swift Navigation has released Skylark, a cloud-based GNSS corrections service delivering centimetre-level accuracy without deploying and maintaining a GNSS network. Skylark targets autonomy applications at scale and enables high-precision positioning for mass market automotive and autonomous vehicle applications.
Skylark works with both of Swift's multi-band, multi-constellation GNSS receivers, the Piksi Multi and the Duro ruggedized industrial receiver. Swift added GLONASS support in its 1.4 firmware upgrade, announced earlier this month, and aims to include Galileo and BeiDou in the near future.
Previously known as a hardware company, Swift Navigation appears to be shifting its focus a bit, including an Internet-delivered service in addition to its GNSS receivers. It has recently focused more closely on the automotive sector; it also has customers in drone technology, robotics and precision agriculture.
Its new platform for high-precision GNSS navigation of autonomous vehicles, via Internet connectivity, Skylark delivers fast convergence times measured in seconds, using positioning algorithms to provide a continuous stream of data to individual devices from the cloud. The data stream allows for quick and robust positioning and high reliability and availability, even in challenging environments, according to the company.
Critical requirements for real-time absolute localization through GNSS for the automotive sector, according to Fergus Noble, co-founder and CTO of Swift Navigation, are:
high accuracy; centimetre level
availability; fast convergence, measured in seconds
integrity
scalability to support a large vehicle population
low cost.
Internet-Delivered via Cell Network
The last two requirements are fulfilled by the cloud-based approach. He characterized Skylark as a hybrid of RTK (Real Time Kinematics) and PPP (Precise Point Positioning) approaches augmented by Swift's intellectual property, with corrections delivered over the Internet as provided by the cellular network, which he described as "robust to outages." Cell coverage along road networks is good, Noble asserted, and 5G applications are increasing that coverage and will further enable connected vehicles. Automotive OEMs are comfortable with the level of cell coverage for this application, according to him. There has been testing to show robustness in most rural areas, and network operators are dedicated to increasing this.
"Skylark operates like a utility," said Noble. "It is a simple, low-cost Internet data stream that provides customers with a complete high-integrity GNSS solution. Simply supply a Swift receiver with power and Internet connectivity and get real-time corrections for highly-dynamic GNSS applications."
To realize the Skylark service, the company hired a team of cloud-based engineering experts who had a role in building Amazon and Oracle critical infrastructure. Swift Navigation is initially launching only with its own devices, but is making the service publicly-available for any customer in any vertical requiring precise positioning. "Every car company is building in autonomous functionality," noted Noble, making clear who the company is ultimately targeting.