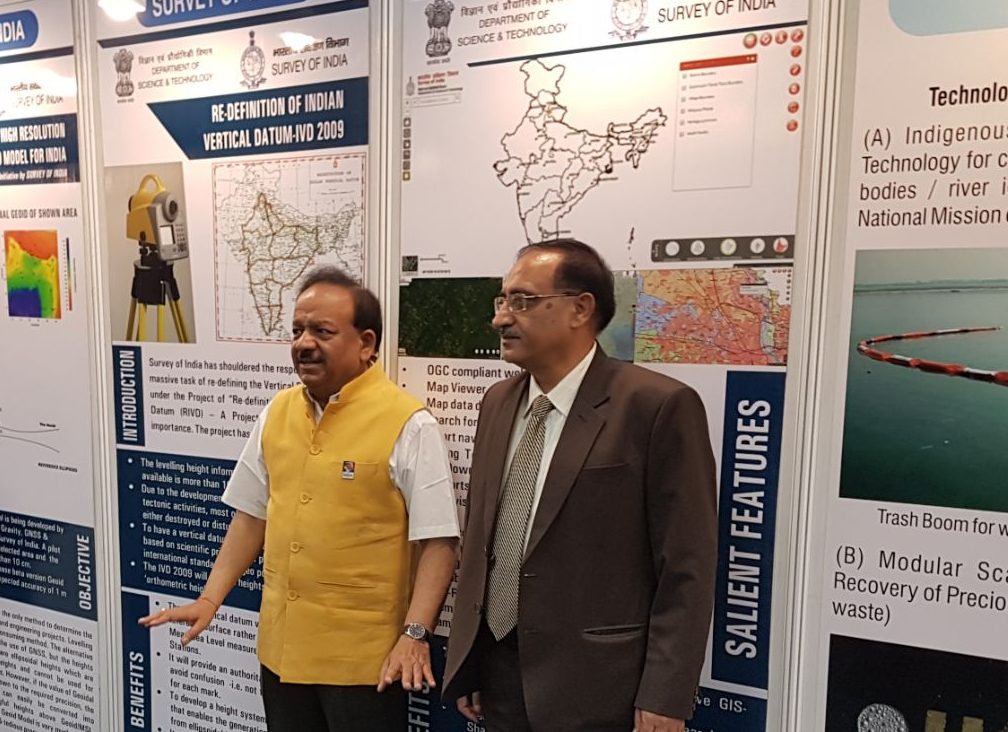 On the occasion of 20th National Technology Day celebrations, Union Minister for Science & Technology, Earth Sciences and Ministry of Environment, Forest & Climate Change Dr. Harsh Vardhan launched the Web portal of Survey of India at Vigyan Bhawan, New Delhi, on May 11. The Web portal allows the sharing of the digital map to every citizen and departments of the country, to enable decision making for planning, development and governance.
Speaking on the occasion, the minister gave a call to renew the pledge to empower the citizens through rapid growth of inclusive technology.   "National Technology Day is an occasion to remind ourselves of the transformative power of science & technology for the nation and society", Dr. Harsh Vardhan said.  The Minister added that such technological innovations, among others, will aid the government's efforts to provide clean and green electric mobility.
The SoI Web-based portal offers national topographic database as a service to cater to Government-to-Citizen (G2C) and Government-to-Government (G2G) requirements/applications. This Geo-portal has been developed in compliance to all applicable Government policies and guidelines.
The portal provides free access of accurate and  authoritative GIS-ready spatial data for use by citizens. This portal will also facilitate national topographic database as a service for various G2G applications indirectly benefitting the citizens of the country.
Adding to this Lt Gen Girish Kumar, VSM, Surveyor General of India said that with the successful launch of SoI's Geo Portal, Indian Vertical Datum, Geoid Model Of India and Spatial Data Model Structure, the geospatial community will hugely benefit. These models will solve many critical and complex issues for command and control 3D Mapping. They can also be used for hydrology, flood monitoring and planning purposes for any major/minor river project in India.
Key features of the GIS data hosted on the web-portal are:
Built in compliance with Government of India National Mapping Policy (NMP) – 2005
Completely built and hosted in India
Includes approved Administrative boundaries (National, State and District) of India. Free for use for Consultative, Research and Education purposes.
Thematic maps such as Road/ Rail/ Water-bodies/ Heritage / School Atlas/ Places of Tourist Importance and Some additional themes from NATMO
Availability and ability to toggle between three different basemaps — High-resolution Satellite Imagery; Thematic Hillshade basemap; and Vector basemap.
Salient features of the web-portal are:
Align map data as per users current location
Draw / mark over the map. Take a snapshot or export these drawings as an industry standard shapefile format.
Search for nearby Point of Interest (POI's) by distance
Supports smart navigation by providing shortest route based on distance. Real-time navigation capabilities are in process of being integrated.
Turn data layers on and off; apply transparency to the layers for better visualization and analysis · Distance and Area measure tools
Import your own shape files and validate its accuracy with SOI data.
How citizens can benefit?
The portal and the data available is free for use by citizens. The portal enables citizens to access data and services built on authoritative data aligned with approved administrative boundaries. How Government departments can benefit? In addition to data access, the portal provides specific functionalities for departments to enable the use of data to build services and also share feedback with SOI on specific areas to focus on.
Some of the key functionalities available to departments include:
Define and manage role-based access to the department users
Manage access control as per profile of various users within the departments
Monitor portal activity and access based on audit trail and logging
Create groups for data sharing and collaboration within and outside the department; always be in full control of what to share and restrict
Define and update attributes
Advanced Query toolbox to query the data
Workflow based Planning tool for department users to share their feedback on data correctness and draw proposed changes.