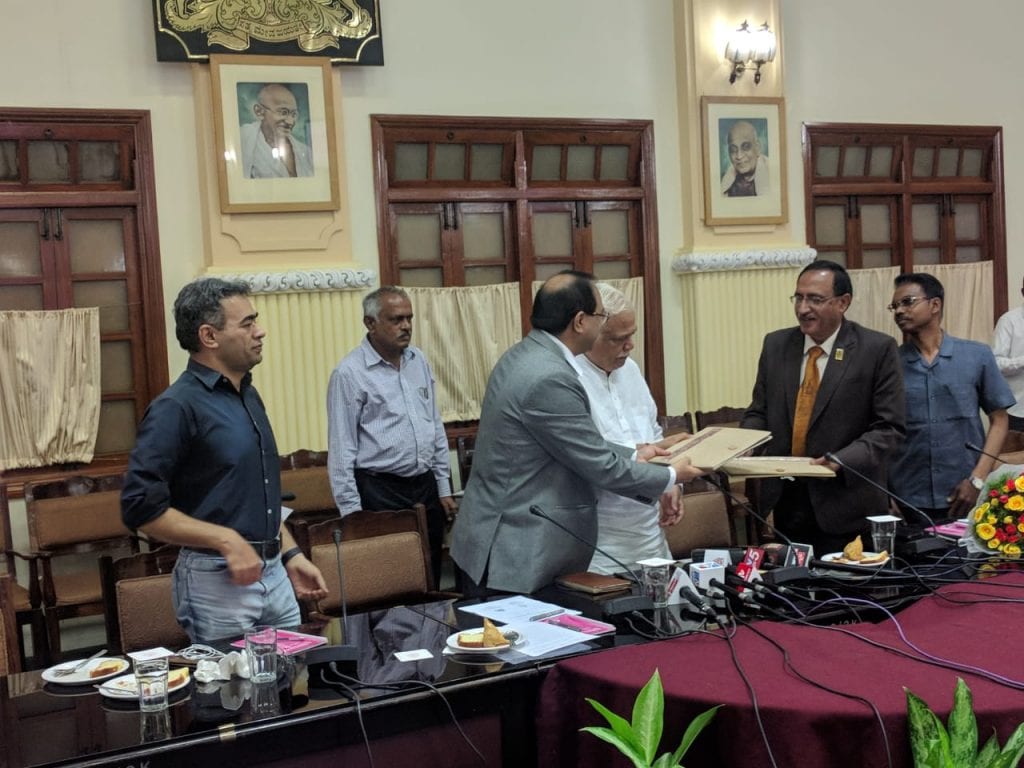 India: Revenue Department, Government of Karnataka, together with Survey of India of  Government of India has entered into Memorandum of Understanding to resurvey land and properties using Drones/UAVs (Unmanned Aerial Vehicle) in Karnataka.
Hon'ble Chief Minister Shri H D Kumaraswamy and Hon'ble Revenue Minister Shri RV Deshpande dreamt of a vision to use technology to give farmers and citizens of Karnataka the perfect land records in a time-bound manner. The result of the vision is Drone Based land and property survey that Govt of Karnataka has taken up along with the Survey of India.
Drone/UAV based survey is objective and not only removes human errors but eliminates human mischief in drawing boundary lines of land & properties.
The technology was tested in pilots at ' Jayanagar 4th Block in Bengaluru City and· Ramanagar(where both rural and town was surveyed) using Drones/UAVs. With the success of pilots, the Government of Karnataka took this historic leap to resurvey lands & properties using Drone/UAV.
This also meets the mandate of the Karnataka Land Revenue Act, 1964, which prescribes resurvey once in 30-years. The last re-survey was completed in the year 1920!
To begin with the Drone/UAV survey will start in five districts namely (i)Tumkur, (ii)Hassan, (iii)Uttara Kannada (iv)Belgavi (v) Ramnagar and Bengaluru City. The resurvey is expected to be completed in about 2-years. In 2019-20 another 8 districts have been decided to be taken up.
Benefits of Drone/Aerial Survey
1. A digitized, gee-referenced, accurate and up-to-date map of each property will get generated in one-tenth of the time.Drone/UAV based survey will be completed in about 2 years.
2. The Drone/UAV based survey not only takes lesser time put also costs lesser than the traditional manual one.
3. Drone Survey is objective as there is no human bias or mischief.
4. The actual accuracy of Drone Survey would be better than manual survey if one takes into account the human bias and errors in manual surveys.
Salient features of MoU
In Phase-1 Drone/UAV based survey in 5 districts (Tumkur, Hassan, Uttarakannada, Belgavi, Ramnagar) and Bengaluru City covering about 51,000 Sq.Kms.
Phase-1 Drone/UAV based survey to be completed by December 2020.
Administrative and Technical Implementation Committees formed jointly with the Revenue Department, Govt of Karnataka and Survey of India representatives.
Time-bound and planned Implementation of Drone/UAV based Survey.
GIS unit will be trained and set up in Survey Settlement and Land Records Department of Government of Karnataka by Survey of India.
Georeferenced, digitized property map will be created for every inch of Karnataka and every property as the final product of the Drone/UAV survey.
Under Continuously Operated Reference Station (CORS) 60 GPS relay stations will be set up across Karnataka. CORS will enable GPS based identification, demarcation, and survey for every property.
In subsequent phases, the other districts will be taken up. (Phase-2in 2019-20: Eight districts namely Kalaburagi, Vijaypura, Dakshinakannada, Mysuru, Gadag, Davangere, Dharwad and Kodagu).