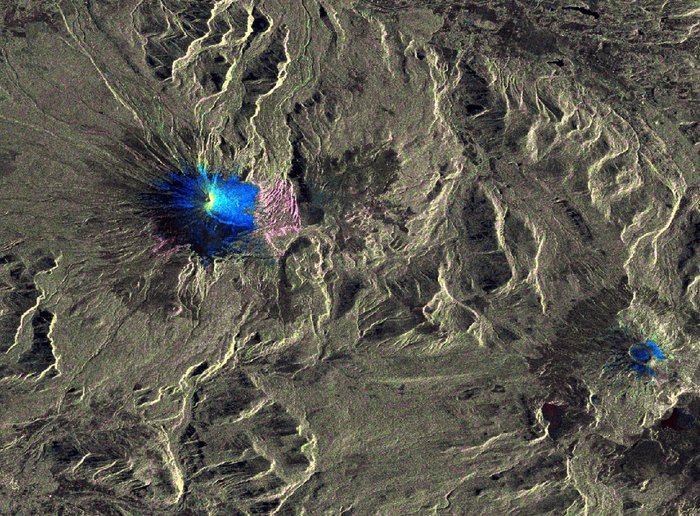 Copernicus data/ESA (2015), map produced by the German Remote Sensing Data Center of DLR
ESA, March 5, 2015-A Red Alert has been issued for the cities in a 10Km radius in southern Cile after Villarriva volcano eruption on the morning of March 3, 2015. Around 2,000 people were evacuated from Pucon, and another 1,000 were evacuated from Panguipulli, the two closest communities to the volcano. The International Charter Space & Major Disasters was activated by ONEMI the Chilean authority for risk management.
The Villarrica Volcano, located in the Andes, in the region of Araucanía, 780 km from Santiago, is one of Chile's most active volcanoes, and had been showing signs of activity since the start of February, leading to close observation of the volcano in the event that a eruption occurred. It finally erupted on 3 March 2015, sending ash and lava up into the sky to a height of 3 km, in a display which was reportedly seen as far as 100 km away.
While no one has been harmed in the eruption, the situation will continue to be monitored for any further eruption. The ash from the volcano could also pose a hazard to health. Meteorologists currently expect the ash cloud to be blown south and across remote parts of Argentina.
Further to the operational support provided by the Charter, ESA and the DLR German Aerospace Center have teamed up to acquire and process Sentinel-1A imagery illustrating changes at the surface of the volcano. This image is a colour composite of the two Sentinel-1 scans from 20 February and 4 March; changes are visually enhanced by a Normalised Change Index (NCI) and some statistical computations. Pink and blue show changes in the radar signal caused by changes in the surface, while areas with no change between the two acquisitions appear grey.
This work was performed by DLR in the framework of the ASAPTERRA project originated by ESA.
Sentinel-1A is the first satellite for Europe's Copernicus programme. With its radar vision, the Sentinel-1 mission provides an all-weather, day-and-night supply of imagery of Earth's surface.
Although not yet in routine operations, Sentinel-1A currently provides a coverage every 12 days of relevant tectonic areas worldwide and is therefore very suitable to monitor events such as volcanic eruptions.
See video of the eruption:
https://www.youtube.com/watch?feature=player_embedded&v=VBXq92g2JL4
Fonte: ESA/Space in Images, Exame