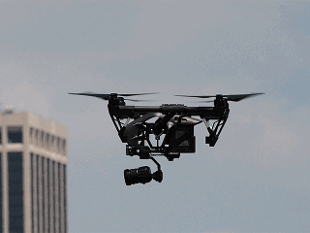 India: Power transmission company, Sterlite has bought stakes in Finland-based aerial solutions company, Sharper Shape, and has announced a partnership in automated drone-based asset inspections. The deal was culminated during the Make in India conference in Mumbai in February this year by the Prime Minister of Finland Juha Sipilä.
"This is a larger partnership for Sharper Shape, which would have presence in the Indian market and for us to transform the way which infrastructure is built and maintained. Challenges in operation and maintenance (O&M) continue to exist in the sector for lack of automation," Pratik Agarwal, chief executive officer, Sterlite Power told in an interview.
He did not disclose the equity amount citing regulatory reasons. The company said that they are currently awaiting approvals from Directorate General of Civil Aviation (DGCA) for large-scale, long-distance drone flights to inspect utility assets.
However, Agarwal said that they might look for getting one-time approvals for some of its captive lines in Madhya Pradesh and West Bengal. "By Q3 or Q4 of this financial year, we are hoping to get some pilot projects on ground," said Agarwal.
According to a recent news report power transmission companies include state owned Power Grid and has sought permission for using drones in monitoring project construction. Power transmission companies, which usually have to build infrastructure in inaccessible areas have applied to reduce their maintenance cost. Sector experts said that with increasing thrust on delivering transmission projects in time, developers are increasingly deploying aerial technologies to save time.
Drone is an unmanned aerial vehicle with photo capturing and video recording, which is used by defence across world for both monitoring and combat. Apart from being used extensively in movie shoots and video recording, it caught fancy of other sectors, when a restaurant used it for pizza delivery. Drones are now even used in grand Indian weddings to aerially record the function, by private metrological agencies, forest and agricultural research bodies. DGCA is under process to prepare guidelines for large scale use of drones in infrastructure sector.
Sterlite executives said that the use of drones will increase the uptime of the grid, reduce transmission tariffs, avoid grid blackouts, and also save the environment by reducing deforestation along the line corridors.