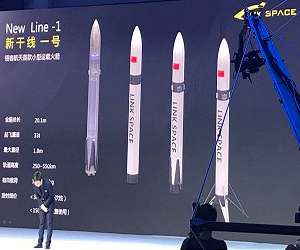 China: A Chinese start up, Link Space, is seems to be following the footsteps of SpaceX by laying out its own project of reusable space launch system. The startup which is also the country's first private rocket company, has recently presented the design of its New Line 1 (also known as Xin Gan Xian 1) launch vehicle, which could compete with SpaceX's Falcon 9 in the future.
Link Space uncovered the design and some basic technical parameters at a recent presentation. The images revealed to the public show that the first stage of the newly developed launcher could feature similar landing system that is used in SpaceX's flagship reusable Falcon 9 booster.
"SpaceX is very cool and Falcon 9 is extremely great, we take SpaceX as our goal and guider, because there are too many advantages for us to learn," Hu Zhenyu, founder and CEO of Link Space Aerospace Technology, told Astrowatch.net.
New Line 1 is a Small Launch Vehicle (SLV) designed for microsatellite and nanosatellite launches. It will be capable of sending up to about 440 lbs. (200 kilograms) into a Sun-synchronous orbit (SSO) of 155 to 342 miles (250 to 550 kilometers).
New Line 1 will be a 66-feet (20.1-meter) tall two-stage liquid rocket with a diameter of 5.9 feet (1.8 meters). With a mass of about 33 metric tons at liftoff, the launcher will have a takeoff thrust of about 400 kN. The first stage of the vehicle will consist of four liquid oxygen/kerosene engines with gas generator cycle. Each single booster will have a thrust of 100 kN.
The most important feature of the New Line 1 rocket will be obviously the re-usability of its first stage, like in Falcon 9 boosters. This could greatly lower the cost of one single orbital launch.
"The launch price is about 30 million yuan ($4.5 million) for each launch (with a totally new rocket), and this rocket will have an enhanced version with increased takeoff weight. By reusing the first stage of the rocket, the launch price will be reduced to about 15 million yuan ($2.25 million)," Hu revealed.
While the New Line 1 rocket will have only one reusable stage, the company thinks big and aims to develop also a second stage that could be reused after landing. Although it is a long-term goal, Hu hopes that it could implemented in the successors of the company's first launch vehicle.
"Perhaps the later version, such as New Line 2 or 3, will have such a capacity," Hu said.
Founded in 2014, Link Space is a Beijing-based startup with no government or military background. In July 2016, the company achieved rocket hover flight with a single vector-thrust-engine for the first time in China. The firm is currently developing key technology for space industry, including variable thrust liquid rocket engine, vertical takeoff, vertical landing (VTVL) rocket flight platform, flight control algorithm and control system, hover flight test process, servo actuator and many others.