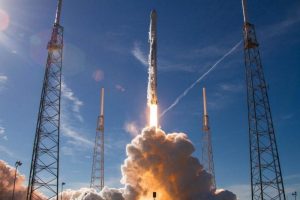 US: SpaceX has successfully launched Spaceflight SSO-A: SmallSat Express to a low Earth orbit from Space Launch Complex 4E (SLC-4E) at Vandenberg Air Force Base, California on Monday, December 3rd at 10:34 a.m. PST. Carrying 64 payloads, this mission represented the largest single rideshare mission from a U.S.-based launch vehicle to date. A series of six deployments occurred approximately 13 to 43 minutes after liftoff, after which Spaceflight began to command its own deployment sequences. Spaceflight's deployments are expected to occur over a period of six hours.
What makes this mission truly historic is that this rocket has already flown two times and it was for the first time that a reusable rocket would blast into space for the third time. Its success is a game changer in the reusable rocket industry. Falcon 9's first stage for the Spaceflight SSO-A: SmallSat Express mission previously supported the Bangabandhu Satellite-1 mission in May 2018 and the Merah Putih mission in August 2018.
The liftoff has broken SpaceX's own record of 18 launches in a year, which the company set last year.
Another distinguishing fact about this mission is that it carried 3 satellites that would track sea piracy, illegal fishing, and smuggling. The satellites are known as Pathfinder and are built by HawkEye 360.
Other payloads include Capella-1, which is an Earth-imaging satellite and enable the company in its SAR( Synthetic Aperture Radar) system, and Orbital Reflector, Enoch, FalconSat-6, Irvine-02.