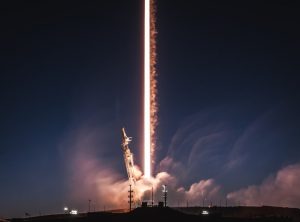 US: SpaceX has launched the first two satellites of its 'Starlink' broadband constellation into low-earth orbit.
SpaceX said that its Starlink constellation would contain up to 12,000 microsatellites, and would constant global coverage when complete.
SpaceX's satellite broadband initiative differs from existing players to space-based internet infrastructure by using small satellites in low Earth orbit (LEO), with a mean altitude of around kilometers meters above Earth.
Most existing internet satellites are in geostationary orbit, almost 36,000 kilometers above the Earth's surface. The company has indicated they initially intend to launch an into 800 satellites into LEO to establish U.S. coverage, followed by around 7,000 in very low Earth orbit (VLEO), which refers to orbits of a mean altitude less than 450 kilometers.
The Falcon 9 carrying Starlink satellites dubbed 'Tintin A' and 'Tintin B' were sent aboard the launch mission of Spanish Earth observation satellite PAZ. The inclusion of the Starlight microsatellites on the PAZ mission was not declared until the day of the launch.