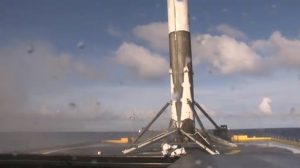 US: SpaceX has successfully landed its Falcon 9 rocket on a drone ship in Atlantic Ocean for a third time. The landing occurred a few minutes before the second stage of the Falcon 9 delivered the THAICOM-8 satellite to space, from where it made its way to geostationary transfer orbit (GTO). GTO is a high-elliptical orbit that is popular for satellites, sitting more than 20,000 miles above the Earth.
The 3,100-kilogram satellite will spend 15 years there, helping to improve television and data, data signals across Southeast Asia. After landing, SpaceX CEO Elon Musk said that there would be "some risk of tipping" as the rocket was brought back to port.
SpaceX started trying to land the first stage of its rockets back in January 2015, but the first successful landing didn't come until December. Since then, though, the company has had more luck. SpaceX has now successfully executed three drone ship landings in the past two months. A second ground attempt is scheduled for July.
Source: Verge