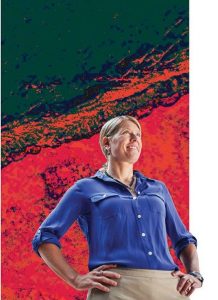 US: Sarah Parcak is an Egyptologist, but her lab is more Silicon Valley than Valley of the Kings: sleek desks, beanbag chairs, bountiful snacks and a row of computer screens that, even after 9 on a Monday morning, still exhibit glassy black stares. In air-conditioned downtown Birmingham, there is no need to rise at 4 a.m. to beat the punishing Nile Delta sun.
Nor is it likely that anyone working here will inhale dangerous bat dung spores, or contract a nasty parasite while transecting flooded rice fields, or face a tombside run-in with a rabid dog. In this cool, quiet room, where some of the most exciting modern explorations of the ancient world are underway, the closest thing to a historic artifact is Parcak's fat laptop, which she hasn't had time to replace in the last seven years.
"Everybody makes fun of me because it's a beast," she says as the machine sputters and churns. "But it still works, and everything is on here."
And she means everything.
Exploiting subtle and, to the naked eye, often invisible differences in topog-raphy, geology and plant life, Parcak, a 38-year-old University of Alabama at Birmingham professor of anthropology, has used satellite imagery and other remote sensing tools to expose a stunning array of forgotten sites from multiple lost cultures.
In Egypt, her specialty area, she and her team have expanded the civilization's known scope, spotting more than 3,000 ancient settlements, more than a dozen pyramids and over a thousand lost tombs, and uncovered the city grid of Tanis, of Raiders of the Lost Ark fame. After the Arab Spring, in 2011, she created, via satellite, a first-of-its-kind countrywide looting map, documenting how plundered tombs first appeared as little black pimples on the landscape and then spread like a rash.
She has pointed out the ruins of an amphitheater at the Roman harbor of Portus to archaeologists who had spent their whole careers digging above it, mapped the ancient Dacian capital of what is now Romania, and—using hyperspectral camera data—aided in the ongoing search for prehistoric hominid fossils in eroded Kenyan lake beds.
This year alone, her satellite images revealed, in desolate Newfoundland, what many believe to be the second-known Viking site in North America, as well as a mammoth ceremonial platform in Petra that millions of visitors to the famous Jordanian city, not a few of them professional excavators, completely missed.
She is now busy satellite-mapping the whole of Peru for a crowd-sourcing project called GlobalXplorer, set to debut in early 2017, that may yield her most audacious set of revelations yet. Meanwhile, she continues to happen upon new finds, sometimes while idly thumbing through Google Earth on her iPhone at the airport.