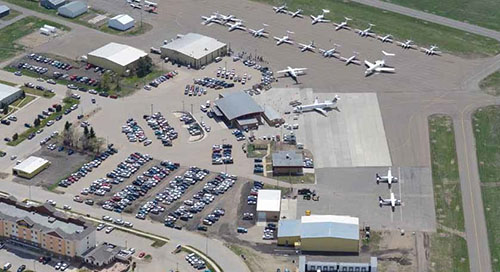 US: As North Dakota continues to forge a reputation as a hub of drone activity, the potential of the technology is reaching small airports in the region.
As the site of a major drone research project, Hillsboro Municipal Airport has become an example that local economic leaders hope to see others emulate.
Staff members from the Grand Forks Region Economic Development Corp. have been visiting with officials at the Devils Lake and Northwood airports to discuss how their facilities could play roles in the industry.
"From a state perspective, we want to diversify our economy in North Dakota. … We're in that stage now to go out and educate and make (small communities) aware of the potential opportunities that are there," said Terry Sando, director of unmanned aircraft systems sector development for the EDC. "But if we don't do that, the state is going to miss out on a great opportunity. You can't be just one region or one city. We have to take it clear across the whole state."
Northwood's location, about 25 miles southwest of Grand Forks Air Force Base and aviation business park Grand Sky, makes it a prime candidate to tap into the industry.
The Northwood airport could serve as a relief runway, allowing unmanned aircraft to land if air traffic gets heavy on the base and its runway is not available. Sando also pitched the idea of stationing drone search and rescue operations at the airport or acquiring a 3-D printer to craft replacement parts for aircraft.
"This was the first visit to make them aware there are opportunities out there, and that we would be willing to work and assist with anything they'd like to do," he said.
Jacob Braunagel, a civil engineer and project manager for engineering firm KLJ who works with the Northwood Airport Authority Board, agrees there is potential. Drone technology is seeing integration into a number of sectors, and he said it's not if but when the same happens in the region.
The board still would need to do more research and have more discussions before deciding to pursue permission to have large drones use the airport.
"There's a lot of unknowns and questions to be answered before the airport fully commits to something like this," Braunagel said.
Devils Lake also is in a beneficial location, centered in the midst of North Dakota's east and west military operations areas, with Camp Grafton nearby.
Adding unmanned aircraft activity to the airports wouldn't be instantaneous. The process would take months and require state and federal involvement before any drones weighing more than 55 pounds would hit the runway.
Northwood officials have been invited to watch flights at Hillsboro's airport, which has been the headquarters for an agricultural research project headed by North Dakota State University and Elbit Systems of America, the manufacturer of the large drone researchers are using to collect data on crops in Traill and Steele counties.
The project has been the recipient of research grant funding from the state, something Northwood or Devils Lake could receive if the airport boards can entice companies to partner with them.
Small airports also could qualify to receive federal improvement funding for facility alterations that would support drones. Changes include lengthening and widening runways to accommodate large drones.