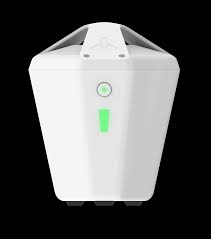 US: Skycatch has announced an on-premise data processing and GNSS base station, the Skycatch Edge1, manufactured in partnership with DJI.
Tested and optimized for the Skycatch Explore1 and DJI Phantom 4 RTK drones, the self-positioning Edge1 allows commercial drone users the ability to process and receive data without the need for internet or cellular connectivity, the company said.
Field teams can fly their drone, process the data and receive centimeter-level data outputs in 30 minutes or less, directly to a tablet. 2D maps and 3D point clouds are available for viewing and sharing directly from the tablet.
The Edge1 concept began as a companion to the Skycatch Explore 1 drone. Now, a new generation of the Edge1 will support all DJI drones, including the recently released DJI Phantom 4 RTK, and will process any 2D geotagged images.
"It's truly a revolutionary product that we're excited to make available to the DJI community, and the construction and mining industry at large," said Christian Sanz, founder & CEO of Skycatch. "With the partnership and support of DJI, the Edge1 will be assembled with precision execution in their world-class manufacturing facility, and will be available faster to the customer."
"As the commercial drone industry has grown, the amount of data collected by our enterprise users is unprecedented," said Jan Gasparic, director of strategic partnerships at DJI. "We are glad to work with Skycatch to manufacture the Skycatch Edge1 GNSS base receiver, enabling enterprise customers, especially those in the construction industry, to process data from their DJI drones on-site and in real-time."