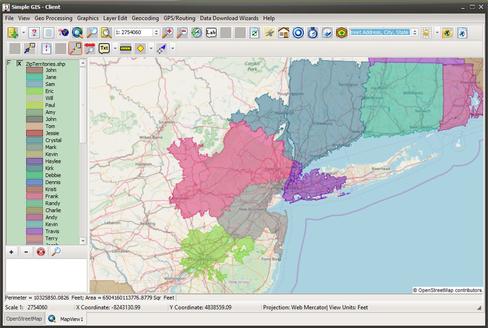 USA: Simple GIS Software has announced that it has released Territory Mapper Plugin for its Client desktop GIS application, allowing users to easily create and manage their territories. The Territory Mapper Plugin provides a set of tools to extend the functionality of client desktop GIS software to:  
Generate Territory Boundaries based on US State, County, School District, or Zip Code Boundaries 
In addition, users can easily append user data such as sales data, staffing, etc. contained in external Excel spreadsheets, csv files, or external tables to their territory features.  Demographic data from the US Census Bureau can also be appended to their territory features. 


Assign and Manage Territories Using   Powerful Visual Aids 
Easily assign, remove, or re-assign regions and get immediate feedback for balancing territories by user-specified field.  Use data appended to territory base regions from user-defined data and/or demographic from the US Census Bureau to balance territory assignments.  When done, export your territory assignments to a new Excel spreadsheet or CSV file.
Simple Territory Mapper is the most cost-effective solution for managing your territories.  Comes with a free 30-day trial and requires Simple GIS Client Version 11.2 installed prior to use.