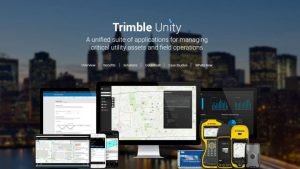 US: Trimble announced on Tuesday that Sutton and East Surrey Water (SESW) in the U.K. has implemented the Trimble Unity 3.0 software suite of GIS-centric cloud and mobile applications.
Developed to support smart water management, Trimble Unity focuses on workflow and business process improvement with the added benefit of better information for decision making and regulatory compliance.
The software provides a single-platform solution for mobile workforce and smart water management.
Faced with the imminent end of life of Google Maps Coordinate, the product that provided an existing automation solution for SESW field crews, SESW selected Trimble Unity software and rapidly configured and implemented the software to provide a modern solution for field crews.
By deploying cloud-based information management with embedded Esri ArcGIS mapping technology, Trimble Unity provides increased transparency and efficiency in job control and field data collection. In addition to helping streamline the field operations, Trimble Unity also supports SESW collection of site specific information to document compliance.
Trimble Unity has automated many of the forms previously used by SESW for job control and data collection in the field. The solution's toolset includes an application builder that enables SESW to implement customized forms and workflows to meet their exact business needs.
The utility can instantly publish forms to field users to quickly and efficiently adapt to changes in its operational environment.
"The immediate need was to replace our Google Maps Coordinate-based system quickly so we could continue to fulfill compliance responsibilities during routine work and in the event of an emergency," said Jeremy Heath, Innovation Manager for SESW.
"We realized that replacing Google Maps Coordinate would also give us the opportunity to improve our field team operations which included our mobile work management capabilities. We chose Trimble Unity because it could be implemented very quickly and it allowed us to adopt a single-platform approach. We can now build customized workflow apps that not only help us address issues quickly and efficiently but also in a way that satisfies compliance requirements."
Source: PRN