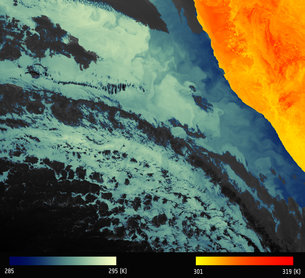 France: Despite only being in orbit a matter of weeks, Sentinel-3A has already delivered some impressive first images. With the thermal-infrared channels now turned on, the satellite completes its set of firsts with a view of ocean features off the coast of Namibia. Arguably the most comprehensive of all the Copernicus Sentinel missions, Sentinel-3A carries a suite of state-of-the-art instruments to systematically measure the temperature of Earth's oceans, land, ice and atmosphere.
Sentinel-3 can be useful to monitor and understand large-scale global dynamics and provide critical information for ocean and weather forecasting. The Sea and Land Surface Temperature Radiometer is particularly sophisticated, measuring energy radiating from Earth's surface in nine spectral bands. By accurately measuring temperature changes, the radiometer will, for example, make an important contribution to monitoring large-scale events such as El Niño.
The very first images came from its optical channels. Before the thermal-infrared channels could be turned on they had to go through a decontamination process to ensure the highest-quality measurements. The first image from these channels shows thermal signatures over a part of western Namibia and the South Atlantic Ocean. This image shows the 'brightness temperature', which corresponds to radiation emitted from the surface.
Further processing is needed to remove the effects of the atmosphere and account for the characteristics of the surface to turn this into an actual surface temperature map. Cold water is seen along the Namibian coast upwelling from deeper waters. The Benguela current flows north along the west coast of South Africa driven by southeasterly winds, creating coastal upwelling.
Source: ESA