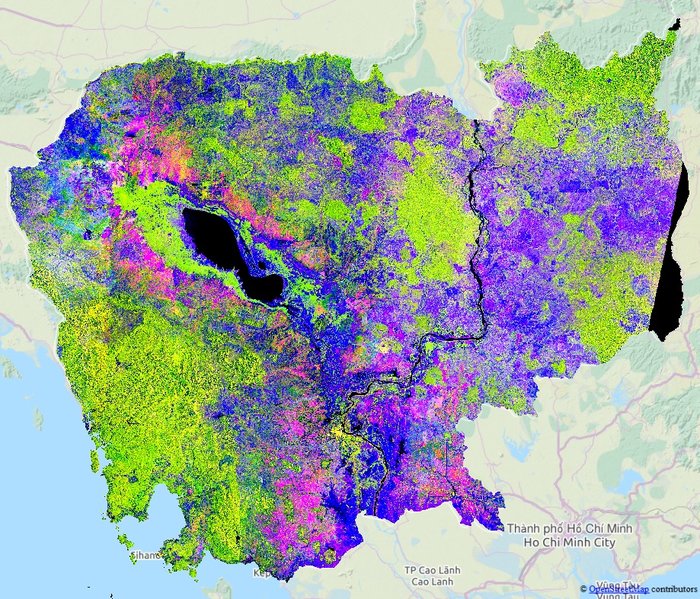 France: The Mekong River Delta of the South East Asia known for its major contribution in yielding rice, has seen a significant drop in production in the past year, according to a report produced by ESA's Sentinel-1A satellite. The effect is a direct result of El Niño.
Since the end of 2015, dry conditions associated with El Niño have strongly affected South East Asia, leading to severe drought, in particular in Vietnam's Mekong Delta. The water levels in the rivers are at the lowest recorded in 90 years in many place, which is causing more severe and earlier salt water intrusion than previous years.
"The frequent observations by Sentinel-1 over the main rice production areas and its free access make the mission an indispensable asset for rice monitoring in the region," said Thuy Le Toan from France's CESBIO institute.
"Rice fields at different growth stages have been mapped by Sentinel-1A nearly every 12 days since October 2014. Comparing the rice area in mid-March 2015 and mid-March 2016 indicates a decrease of about 276 600 hectares of rice grown area – a reduction of 16.7%."
The Sentinel-1 mission is helping to map and monitor rice production. It carries an advanced radar that can see through all weather conditions – essential in cloud-prone South East Asia – and is highly sensitive to changes in waterlogged ground such as rice paddies.
Sentinel-1 is a two-satellite mission. The first satellite, Sentinel-1A, currently has a revisit time of once every 12 days over important rice areas. After its sister Sentinel-1B is launched on 22 April and is brought into service, coverage will be achieved every six days. This will allow for more frequent updates on rice crops – essential for optimising the production of Asia's main food resource.
"Sentinel-1A has already demonstrated its great value for monitoring rice crops at a large scale, as it provides data of top quality over large areas at 20 m resolution, in a systematic way, with a high revisit frequency," said Francesco Holecz from sarmap and an expert in rice crop monitoring with remote sensing data.
"For the first time, this allows maps at national level to be generated, containing timely, accurate and detailed information. Once Sentinel-1B is operational, the mission will be a game changer in the operational monitoring of rice, and also in general for agriculture and forest monitoring."
Source: ESA