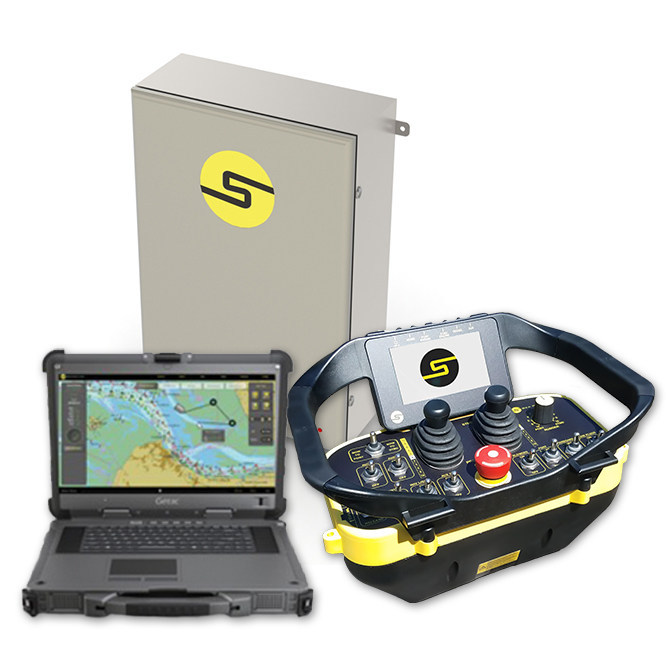 BOSTON:- Sea Machines Robotics, a Boston-based developer of autonomous technology for marine vessels, announces the successful completion of product sea trials of the company's introductory line of intelligent command and control systems, developed for the demanding challenges of offshore commercial,scientific and government applications.
The two new products, SM300 and SM200,transport the marine industry into a new era of task-driven, computer-guided vessel operations, bringing advanced autonomy within reach for small- and large-scale operators. Already in use in North America and Europe, Sea Machines' products unlock real value in commercial vessel operations by providing major advances in productivity, predictability, performance and safety. 
The SM300 is an industrial-grade vessel intelligence system providing "operator-in-the loop" autonomous command and control, plus direct remote-control operation via wireless belt pack. Targeted applications include multi-waypoint missions, ocean search and survey, patrol and surveillance, and mothership-daughter vessel collaborations.
The SM200 provides fully integrated, line-of-sight and remote-vessel control for collaborative vessel operations.
"This is the advanced technology that mariners have long been awaiting," said Sea Machines' CEO Michael G. Johnson. "Our products allow operators and crew to focus on higher-value tasks while at sea, empowering a commercial vessel to do more with predictable results and lower operational costs. Missions such as survey, fishing, dredging, surveillance and offshore energy support can now be executed productively around the clock and in extreme weather conditions, with improved crew safety and efficiency."
The SM product family can be installed into existing or new-build vessels, and incorporates communication interfaces for integration with onboard digital, analog and mechanical systems. Sea Machine's modular design ensures that installation and commissioning can be completed in days for most vessels.