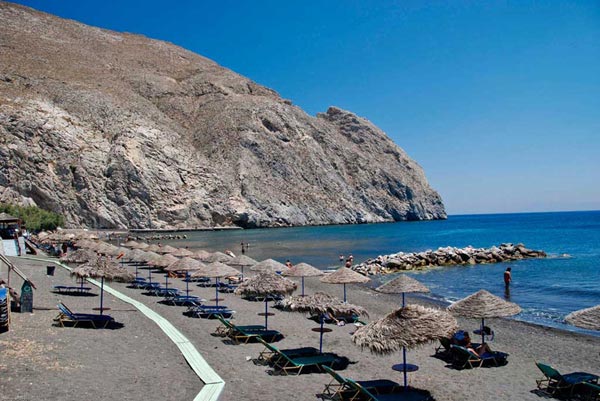 Greece: European Space Imaging has just published a case study showing how very high-resolution satellite imagery has aided Santorini, Greece, to claim back its public space from illegally placed umbrellas. Very high-resolution imagery from WorldView-2 satellite has also assisted in the mapping the beaches and in the easy ongoing monitoring of umbrella locations to help ensure businesses pay fees for umbrellas located on the public beaches.
In Greece the beaches belong to the community and are public spaces requiring free access. Each summer specific spaces on the beaches are allocated to businesses to set up and rent beach umbrellas. But it is common to find more beach umbrellas placed in the allotted area than permitted – sometimes trespassing on the public beach.
The study was produced by TotalView, a Greek geospatial company, and GEOTHIRA S.A owned by the Municipality of Santorini, who were searching for a solution to simplify beach umbrellas permits and receive the correct fees for the beach space occupied. European Space Imaging collected high-resolution satellite imagery from DigitalGlobe's WorldView-2 satellite over the region which became the basis of the study.
"The 50 cm and better resolution of the WorldView-2 imagery allow us to clearly identify and count beach umbrellas", said Vana Giavi, TotalView. "It is possible to define exact geo-coordinates for the areas under permit and to monitor the beach use over the summer period to check that businesses fulfilled their contracts with the Municipality".
Using WorldView-2 satellite imagery to get regular updates on the situation and to through creating beach maps outlining exactly where umbrellas should be located has helped businesses fulfill their permit contracts. The imagery is a neutral observer and can be provided as evidence when businesses fail to stay within their boundaries or increase the number of umbrellas to those outlined in their permit.