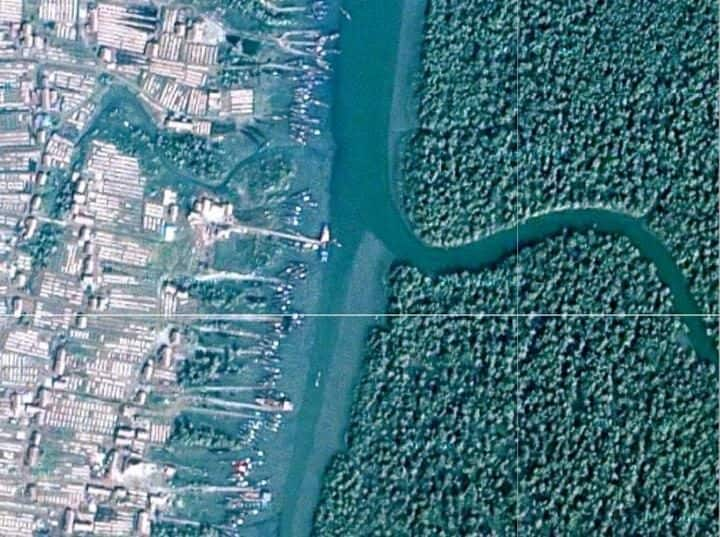 Bangladesh: A University of Nottingham professor is using satellite imagery to track down child slaves working on a protected World Heritage Site in Bangladesh. Professor Kevin Bales has discovered five previously unknown labour camps using satellite technology.
Two fish processing plants located on the Sundarbans National Park in the south west of Bangladesh were already suspected of using forced labour, including, it is claimed, children as young as nine, working for up to 40 hours straight.
The additional five camps, used to dry fish for pet food, were located by Professor Kevin Bales of the University of Nottingham using satellite technology including Google Earth.
"People are suffering here. Children are killed in these places regularly: sometimes they're eaten by tigers, sometimes they die of disease," Prof Bales, a specialist in contemporary slavery at the University of Nottingham and author of the annual Global Slavery Index, told a news daily.
He found the camps by analysing current and historic satellite images of the 1,330 sq km national park.
"What look like buildings on the satellite images are not in fact buildings, but giant racks where children who have been enslaved have been doing the drying and cleaning and scraping," he said.
Three areas of the Sundarbans Reserve Forest are certified as World Heritage Sites by UNESCO, an arm of the United Nations.
UNESCO did not respond to requests for comment, but said it leaves the management of protected areas to local governments.
Makeshift fish drying camps are permitted in the Sundarbans park during certain months of the year and local authorities are not aware of any malpractices, officials said.
Pankaj Chandra Roy, the district police chief for Bagerhat, the area in which most of the park is located, said he was not aware of the recent satellite images, but acknowledged that there were a number of fish drying camps in the Sundarbans.
He added: "If we receive any allegation from any parents, we are ready to conduct a drive against the particular location inside Sundarbans."
Prof Bales said there was strong evidence to suggest the fish drying camps were exploiting children between nine and 14-years-old.
Children have reported harsh conditions including sleeping in the open with little food, disease and, in some cases, sexual abuse, according to Prof Bales.
Prof Bales, who has spoken to at least nine escapees from camps in the park, said one of the camps had been present since 2013, and two more since 2014.
Satellite technology has previously been used to locate refugee camps and massacre locations in Darfur, as well as mass grave sites in Bosnia and Peru. Although these trials were "very effective", according to Prof Bales, the method is yet to be widely adopted.