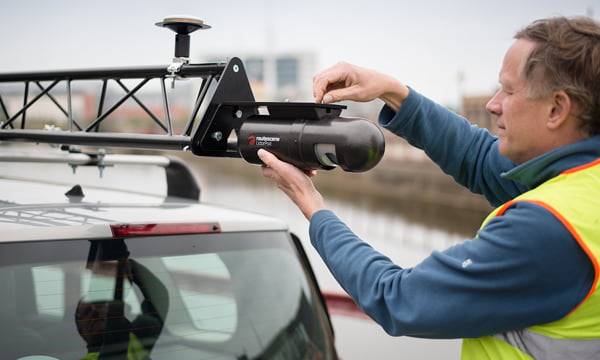 Germany, October 13, 2014: Routescene has launched a new 3D mobile mapping solution, Routescene LidarPod, at Intergeo.
LidarPod is a lightweight, self contained system that uses Velodyne LiDAR technology to provide rapid 3D data collection and automated processing. It is simple to operate and enables rapid deployment in the field. It is the ideal tool for meeting the new demands being seen across the industry, it will transform surveying and how surveying is applied across many sectors. It is a flexible system that has been developed specifically for use on Unmanned Aerial Vehicles (UAV) but can also be fitted onto any mobile platform required such as car, boat etc.
The company claims that LidarPod can be used in situations where physical access to land is limited, risky or otherwise too costly including mining, forestry, utilities and energy as well as academic research and traditional surveying and mapping. It can also be used for 3D mapping; large scale topographic surveys; city planning and management; powerline inspection; scoping, planning and management of mines plus forestry design, management and operation.
"We are seeing an increasing demand for 3D data, which is taking over from traditional 2D maps and this trend will accelerate in the next few years. We are also seeing an increased need to update mapping information more frequently, with customers displaying an ever increasing sophistication using a variety of applications which need 3D data, such as Building Information Management systems (BIM)," the company stated in a release issued to the media.
Source: Routescene