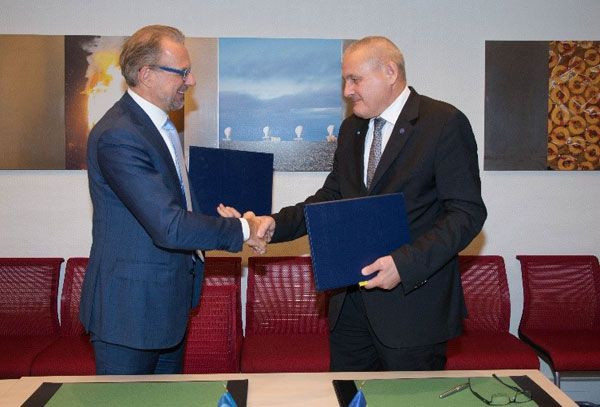 France: An agreement for the Sentinel Collaborative Ground Segment Cooperation was signed on 13 December at ESA's Headquarters in Paris, France, to facilitate Sentinel data utilization in Romania.
Copernicus, the world's biggest and most successful Earth observation programme is run by the European Commission, ESA and EUMETSAT. The Sentinel family of satellites have been developed to fulfill the operational needs of the Copernicus environmental monitoring program.
ESA and the Romanian Space Agency (ROSA) have entered into a close cooperation, which includes joint activities and collaboration in the area of Earth observation. These activities started even before Romania became an official ESA Member State. Romania plays a crucial role in maintaining a European-wide balanced approach to the activities of ESA.
As per the agreement, ROSA will coordinate ground segment activities in Romania – such as hosting, distributing, ensuring access and archiving Sentinel data – and act as an interface between ESA and national initiatives. ROSA also plans to cooperate with different European partners and institutes.
The data provided by the Sentinel missions are used mainly for Copernicus Services, but these free and open data are also used by scientists across the globe.
The Sentinel Collaborative Ground Segment would provide complimentary access to Sentinel data and to specific data products or distribution channels. The collaborative elements bring specialized solutions for further boosting the Sentinel missions' exploitation in various domains, such as data acquisition and (quasi-) real-time production, complementary products and algorithms definitions, data dissemination and access, development of innovative tools and applications as well as complementary support to calibration and validation activities.