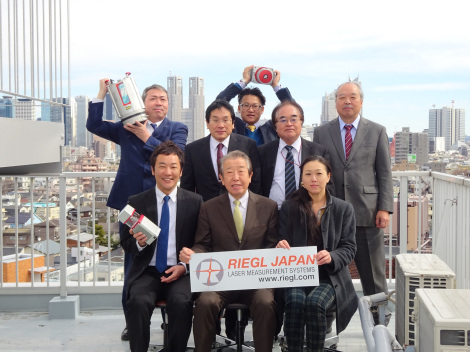 Japan: RIEGL Japan, the Japanese office of RIEGL Laser Measurement Systems, is celebrating their twenty-year anniversary this year. Initially started in 1993, Teruo Sasaki, CEO of ZIMMER JAPAN at the time and current CEO of RIEGL Japan, began to sell and distribute RIEGL products throughout Japan, RIEGL Japan was officially founded in 1997.
Currently operating in Tokyo with a dedicated long-term and experienced team of LiDAR enthusiasts, RIEGL Japan sells, distributes, and supports customers throughout the country.
The RIEGL technology is used widely in Japan and RIEGL Japan has a tremendous footprint in the industry with reference customers for survey or research applications such as Mitsubishi Heavy Industries, Nakanihon Air Service, Luce Search, Misuzu, numerous national research institutes, steel manufacturers, automobile manufacturers, universities, and surveying companies.
With the Japanese government, beginning to promote the effective use of 3D data acquired by Terrestrial or Unmanned based LiDAR systems this year; RIEGL Japan is making steady efforts to expand the market in Japan by brining latest technology to the market.
With "the better after-sales service", RIEGL Japan has gained absolute trust from their customers because of their long-term efforts, continuation of hard work and customer support, and strengthening relationships with software companies and system integrators in Japan.