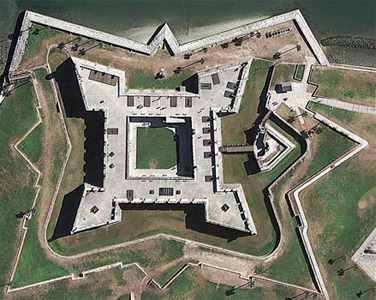 US: A group of archaeologists have found the Fort San Marcos using ground-penetrating radar (GPR) and remote sensing technologies. The researchers used GPR and magnetometers to locate the outlines of the lost Fort San Marcos near Beaufort.
Though the researchers knew about its whereabouts, the remains of the 16th century structures were buried underground in the midst of the 16 acres of land, which was the site of the earlier French settlement of Charlesfort.
Fort San Marcos founder Pedro Menendez de Aviles "didn't leave us with a map of Santa Elena, so remote sensing is allowing us to create a town plan that will be important to interpreting what happened here 450 years ago and for planning future research," said archaeologist, Chester DePratter.
"This work will allow us to tell the story of the land that would eventually become the United States. Santa Elena is an important part of this history that lends insight into how colonial powers in Europe vied for control over this corner of the New World," said Victor Thompson, University of Georgia anthropologist, who worked with University of South Carolina archaeologist Chester DePratter at the site.
The breakthrough in June came after a number of failed attempts to locate the site with exploratory digs. The finding is scheduled to be published this week in the Journal of Archeology Science Reports, according to a University of South Carolina news release.
Fort San Marcos was built in 1577. Menendez' crews got it up in six days because of the threat that a Native American tribe would attack. It allowed the Spanish to restore Santa Elena, which settlers had abandoned the year before when it was attacked.