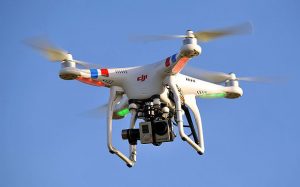 US: According to a new market research report "LiDAR Drone Market by Product (Rotary Wing, and Fixed Wing), Component, Application (Corridor Mapping, Archaeology, Construction, Environment, Entertainment, and Precision Agriculture), Geography – Global Forecast to 2022″, published by MarketsandMarkets, the market was valued USD 16.1 Million in 2015 and is estimated to reach USD 144.6 Million by 2022, at a CAGR of 35.2% between 2016 and 2022.
Factors such as technological superiority, encouragement from government and institutes for adoption of LiDAR drones, and its use in emerging applications such as precision farming are the key drivers for the growth of the LiDAR drone market. The use of LiDAR drones for delivering products generates further opportunities for LiDAR drone manufacturers
Meanwhile, the rotary wing LiDAR drone market is expected to grow at the highest CAGR during the forecast period. The ability of rotary wing LiDAR drones to take off without runways and its high degree of maneuverability are the reasons for the high growth of this market,
The corridor mapping application held the largest share of the market in 2015. Highway corridors are built after proper planning and designing to ensure that they can withstand the pressure exerted by vehicles on a regular basis. As highway projects are constructed from a long-term perspective, it is necessary to conduct a thorough feasibility study of the terrain on which the highway is to be constructed.
LiDAR drone provides all this information by building three-dimensional (3D) elevation models of the surveyed area. Infrastructure development is further expected to increase in coming years, which would, in turn, lead to increased usage of LiDAR drones for inspecting the growth of the infrastructure project. These benefits drive the market in the corridor mapping application.
The North American market held the largest share of the global LiDAR drone market in 2015. The increasing awareness about the benefits of LiDAR drones such as high accuracy and low cost is one of the reasons for the large market share of the North American LiDAR drone market. The use of LiDAR drones in precision farming is driving the LiDAR drone market in North America.
Source: PRN