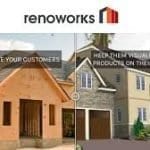 US: Renoworks Software Inc. has announced the launch of Renoworks FastTrack, an all-in-one platform that provides design, true-to-life 3D visualizations, and accurate measurements for the home construction and remodeling industry. Renoworks FastTrack, powered by Geomni, aims to streamline the lengthy home renovation process by reducing time-consuming home visits and helping contractors measure projects accurately and estimate quickly. Geomni is a Verisk business.
A Faster Track to Project Readiness
Requiring only an address, FastTrack leverages Renoworks' home visualization software and Geomni's aerial imagery and measurement technology to provide true-to-life visualization, interactive 3D models, and accurate measurements to users without the need to physically take photographs or measurements of a home.
"Renoworks visualizers were among the first tools that manufacturers included on their websites to provide digital interactive product experiences to homeowners and contractors," said Doug Vickerson, CEO of Renoworks. "FastTrack takes building product interaction to the next level by empowering contractors and homeowners to measure projects with the manufacturer's products, in addition to visualizing what the home will look like when it's complete."
"The remodeling value chain, from the homeowner's initial decision to renovate to the completion of the project, has historically been lengthy and high-touch," said John Long, VP of Business Strategy for Geomni. "Renoworks FastTrack, powered by Geomni, vastly simplifies the renovation process so contractors can spend less time traveling, designing, measuring, and estimating and more time winning jobs and completing projects. We look forward to bringing this solution online and integrating FastTrack across our Geomni solutions."
Roofing Manufacturers and Roofers
Initially, FastTrack will launch specifically for roofing manufacturers, with active plans to include additional industry categories (for example, siding, doors, windows) in the first half of 2019.
Roofing manufacturers will be able to provide accurate roofing measurements that include roof squares, area, slope, and other property information to their roofing and contractor customers, along with state-of-the-art 3D visualizations to help estimate and win jobs faster.
Renoworks FastTrack Beta Program
With the addition of launching FastTrack for roofing manufacturers, Renoworks is also launching the Renoworks FastTrack Beta Program, granting access to the pilot to non-roofing manufacturers and material suppliers so they can test the new platform while providing feedback to shape the experience to their needs.
"Renoworks has always worked closely with its community of manufacturer clients to best understand their business needs and deliver quality experiences that benefit them and their customers," said Doug Vickerson. "With the FastTrack Beta Program, our ability to ensure that together we create an industry platform best suited for them will become reality."