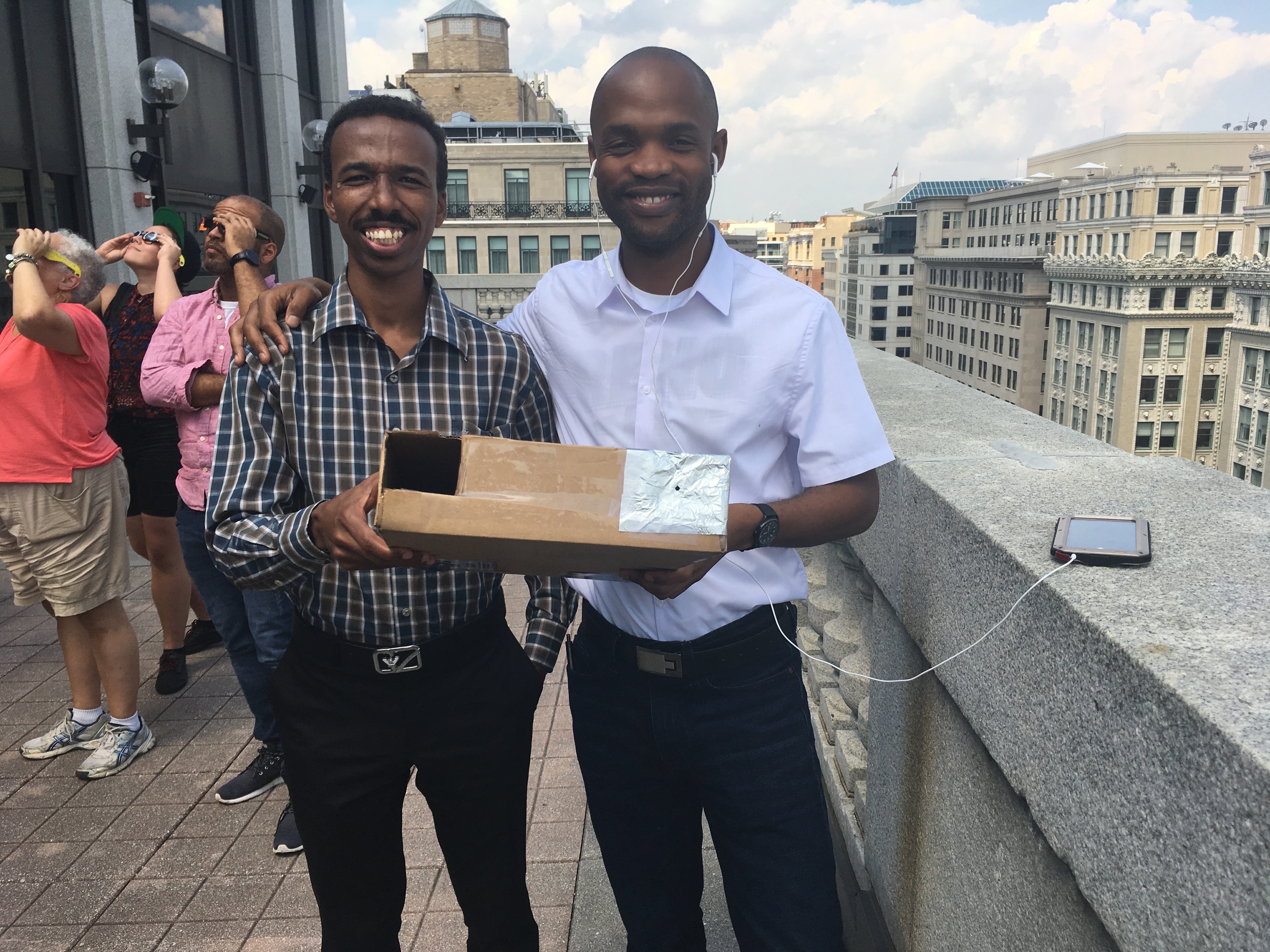 US: Radiant.Earth is pleased to welcome two representatives from the Mandela Washington Fellowship for Young African Leaders. Beginning August through September, Mmoloki Morapedi from Botswana, and, Abdelaziz Elmi from Djibouti, will contribute to key strategy and technology development efforts at Radiant.Earth.
"This is a true win-win. We're providing this professional opportunity, but the experience, insights, and contributions of these two fellows stand to enhance much of what we're doing here at Radiant.Earth," says Anne Hale Miglarese, Radiant.Earth's Founder and CEO. 
Funded by the Gates Foundation and Omidyar Network, Radiant.Earth is a non-profit organization, working to aggregate the world's open Earth imagery and providing access and education on its use to the global development community. The team is currently developing an open imagery platform to facilitate better access to satellite data and tools. 
The Mandela Washington Fellowship for Young African Leaders is a United States (U.S.) government program, which aims to empower young African leaders through academic coursework, leadership training, and networking opportunities. The 
Fellows, who are between the ages of 25 and 35, have established records of accomplishment in promoting innovation and positive change in their organizations, institutions, communities, and countries. 
Elmi and Morapedi are part of a larger group of 1,000 Mandela Washington Fellows that were hosted at 38 academic and leadership institutes across the U.S. this summer. These exceptional young leaders met in Washington, D.C., and 100 were competitively selected to spend six weeks in professional development training with U.S. non-governmental organizations, private companies, and government agencies.
Morapedi – who builds his own drones and teaches others how to fly them  – will focus on transforming captured drone imagery into a usable product for greater analytical insight of agricultural yield in Botswana, as well as explore and analyze available satellite, aerial and drone imagery data sets of the region. 
"I am learning a lot about imagery analysis that can help me better serve farmers with yield prediction in Botswana. This is a great opportunity for me and confirmation to continue my career path. I can make a difference in my community using the technology of drones," says Morapedi. 
Elmi will combine satellite imagery, with other mapping data to analyze information on the recurring drought problem in the Horn of Africa. He is currently building a hybrid web and mobile application called H-Desk (Horn of Africa Drought Emergency System Knowledge-Base) for East African policy-makers to easily evaluate the extent of drought in their countries.  
"My experience as a Fellow is very exciting and inspiring. My goal is to provide real time information on the recurring drought problem for governments and aid organizations in East Africa. The training and career connections I am receiving is helping me march towards that goal," says Elmi.
You can join the conversation with #YALI2017. For inquiries and to learn more about Radiant.Earth, please contact Louisa Nakanuku-Diggs at [email protected] or (202) 596-3603.