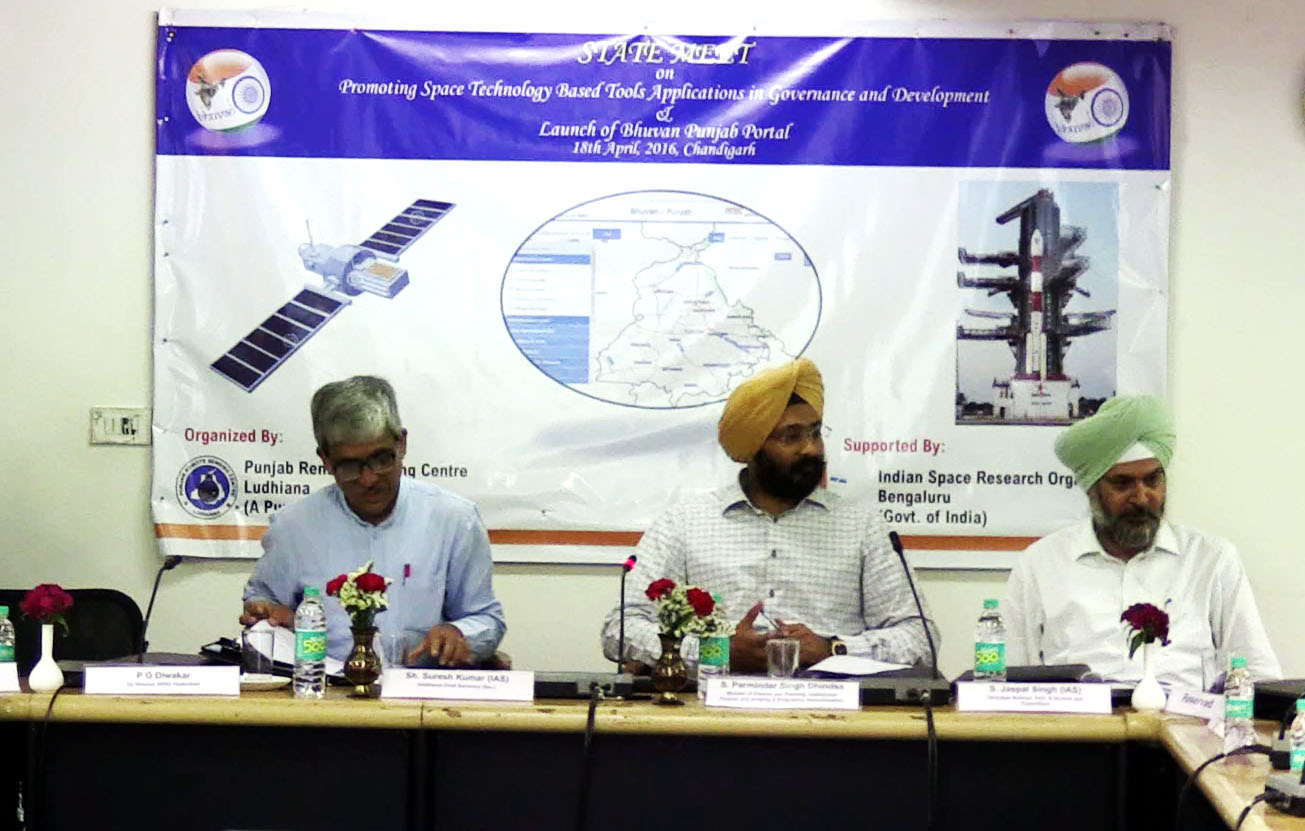 India: Punjab Remote Sensing Centre in collaboration with ISRO launched state specific Bhuvan Punjab portal in the state, providing the citizen-centric data services to various users. The portal was launched during Punjab state meet on promoting space technology-based tools applications in governance and development on 18 April, 2016 at Chandigarh.
With Bhuvan Punjab Portal, Punjab became first state in the country to launch state specific portal.
PRSC director Dr Brijendra Pateriya, in his opening remarks, said that space technology provides effective decision making tools for policy framework and day-to-day planning.
Mr.Parminder Singh Dhindsa, Finance &Planning Minister, Punjab attending the occasion as a chief guest said, that India, having the largest constellation of remote sensing satellites, needs to utilize these much more efficiently in agriculture, rural & urban development planning. He also exhorted the Scientists and User Departments and States to develop applications in a manner that they benefit the poor and needy sections of society.
In his Inaugural address Additional Chief Secretary (Development) Suresh Kumar said, that technology has enormous potential for governance and decision making processes. He also stressed to integrate ICT and space technology which may help government to frame robust policies to the citizens' benefits.
Jaspal Singh, Secretary Science, Technology and Environment and Expenditure chaired the technical session on Space & Geospatial Technology in Governance. He said that application of space technology is the key to any planning activities and management of resources. He suggested preparing the web applications of Punjab GIS, a project under which the data provided by many departments of Government of Punjab is being brought into GIS by PRSC and this data would be quite useful for planning purposes in the state.
Dr. B.S. Gohil and Dr. P.G. Diwakar, senior scientists of ISRO, emphasized to utilize the space technology for development planning in the fields of agriculture, soil conservation, drainage and irrigation, health and education by various development departments. About ten learned scientists from different ISRO units presented their expertise and the views for way forward.
Source: Our Correspondent