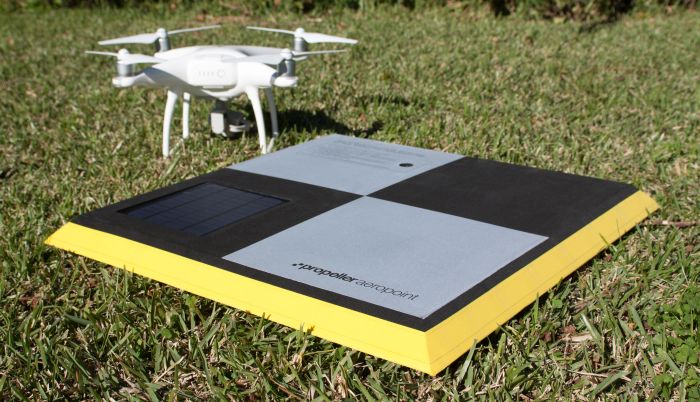 US: AeroPoints are essentially smart ground control points that make it easy for anyone to capture survey-accurate mapping using drones. The patent-pending technology provides a world-first solution to the two major roadblocks to commercial drone adoption: accuracy and efficiency.
Earlier this month, Propeller also announced a partnership with the world's largest drone manufacturer, DJI. The agreement combines the Propeller Aero cloud-based processing and analytics software with the professional range of drones from DJI. Coupled with the AeroPoints, now just about anybody with a drone can perform accurate surveying and mapping.
AeroPoints are designed to be visible from the air and capable of quickly determining its own position down to 2cm absolute accuracy using post processed kinematic (PPK) GNSS positioning. They are also solar-powered, durable and weather-resistant.
To use AeroPoints, customers simply lay them down, fly their drone, and then pick them up again. They then automatically connect to a wireless or mobile hotspot when possible to upload captured positioning data.
"Propeller's mission has always been to help our customers process, use and share the highest quality drone data," said Francis Vierboom, co-founder and co-CEO of Propeller Aero.
"We're thrilled to be delivering a product that will make capturing that data easier and more affordable than ever for companies across the industrial sector ‐ including mining, construction, quarries and landfills ‐ the reception for AeroPoints has been overwhelmingly positive."