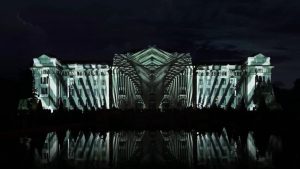 According to the new market research report "Projection Mapping Market by Offering (Hardware (Projector, Media Server), Software), Projection Distance (Standard, Short), Dimension (2D, 3D, 4D), Applications (Events, Festival, Large Venue, Retail/Entertainment), and Region – Global Forecast to 2023″, the overall projection mapping market is estimated at USD 1.37 billion in 2018 and is expected to reach USD 3.56 billion by 2023, at a CAGR of 21.10% between 2018 and 2023. Growing investment in product advertising and increasing need for greater audience engagement are boosting the projection mapping market.
 The major companies operating in the projection mapping market are :
Panasonic Corporation (Japan),
Seiko Epson Corporation (Japan),
Barco NV (Belgium),
Christie Digital Systems (US), and
BenQ Corporation (Taiwan).
The report also includes Digital Projection (UK), Optoma Corporation (US), NEC Display Solutions (Japan), Vivitek (Taiwan), Green Hippo (UK), AV STUMPFL (Australia), Resolume (the Netherlands), HeavyM (UK), GarageCube (Switzerland), Bluepony (US), Lumitrix (Czech Republic), ViewSonic (US) and NuFormer (the Netherlands)