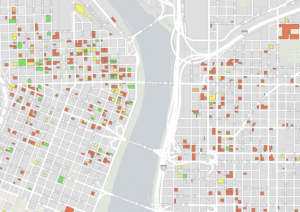 US: The US city of Portland has released a new map showing the most dangerous places to be during an earthquake. The map shows unreinforced masonry buildings constructed before 1960s are likely to collapse during a big earthquake. The map has featured 1,800 buildings that are dangerous to be around during an earthquake.
According to Dan Douthit of Bureau of Emergency Management, many west coast cities — especially in California — already have policies to make them safe or tear them down.
"So Portland is looking at a policy where we would require that all building owners either retrofit or demolish them," he said. "But we also want to come up with some incentives to make it easier for building owners to do the work."
A committee is expected to propose that new policy later this year. Since Portland first collected data on the buildings in the 1990s, 13 percent have been upgraded. And another 8 percent have been demolished.
Source: Opb.org