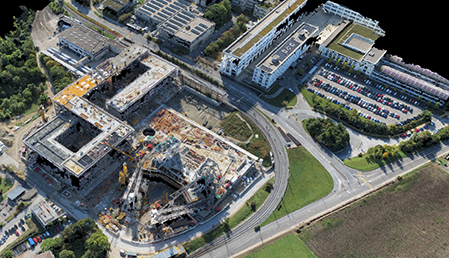 US: Pix4D has introduced a new image classification technique as part of its Pix4Dmapper photogrammetry software. The solution uses new machine vision techniques for photogrammetry for automatically classification of drone-based point clouds.
Known for its photogrammetric capabilities from drone-captured imagery, the Pix4D software automatically classifies drone-based point clouds, based on machine learning techniques. As far as converting raw imagery into 3D models with attributed semantic information is concerned, it was difficult, but this new feature is a significant step in that direction and introduces machine learning tools in photogrammetric workflows.
The solution has recently been integrated in Pix4Dmapper, the company's photogrammetry software product for drone-based mapping and automatically classifies 3D points based on both geometry and color. By using this feature, entire 3D point clouds are classified into individual groupings, divided into categories such as buildings, roads or vegetation.
Each individual point in a 3D point cloud that is generated through Pix4D's software is referenced to all the images used to calculate it, providing extra information to the machine learning process and can be used for more realistic 3D visualizations, analysis and measurement that can be used for applications that previously relied on stereo-pair matching.
In the near future, this classification scheme will be developed and refined further, so that buildings can be extracted and modeled as a semantic composition of geometry, including elements such as roofs, facades, windows, doors and balconies. Other applications that benefit from the classification scheme are volume measurement and vegetation growth control.
Machine-learning technology refers to software algorithms that refine themselves by processing more data, a famous example being Google´s search algorithms that get refined over time, taking the searches of users as input to this process.