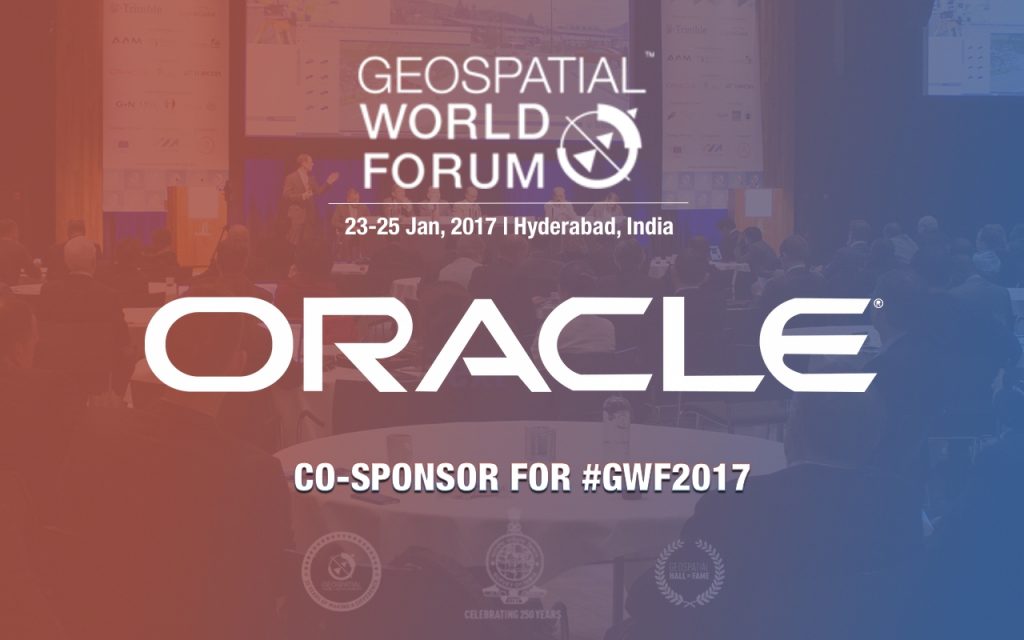 India: Geospatial Media and Communications is glad to introduce Oracle as the Co-Sponsor for Geospatial World Forum 2017, which is scheduled to take place from January 23th- 25th, 2017, in the city of Hyderabad, India. 
The conference will witness exclusive panel on 'Geospatial + Deep Learning: Shaping Smarter World' featuring industry stalwarts. The 2000 sqm exhibition will showcase the history of surveying as well as futuristic technologies. 
As a co-sponsor, Oracle will showcase offerings – Oracle Spatial and Graph, related to cloud, big data and geospatial data and analytics that are used for land management and GIS, mobile location services, sales territory management, transportation, LiDAR analysis and location-enabled Business Intelligence.
About Geospatial World Forum 2017
Geospatial World Forum is a mega geospatial business and professional event, taking place since the past decade. Organized by Geospatial Media and Communications, the event is known for highlighting the value and power of geospatial technology as an enabler in addressing global economic and socio-economic issues. It is one of the 'must-attend' events for geospatial professionals, featuring large-scale conference and exhibition, top-ranked keynote speakers, major industry segments, high-level discussion programs and various social networking events.
About Geospatial Media and Communications
Geospatial Media and Communications is an internationally accredited organization, having committed itself to serve stakeholders of geospatial community and work towards opening new era of industrialization, while facilitating collaboration and demonstrating value and benefits of geospatial technology and information for governance, businesses and people. 
For additional information please contact:
Harsha Vardhan
Corporate Marketing Manager
Geospatial Media and Communications
Tel: +91-120-4612500
Email: [email protected]
Web: https://geospatialworldforum.org