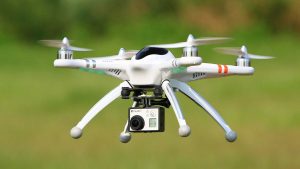 US: The Ontario Woodlot Association (Quinte Chapter) is playing host to an active learning day on the ground and in the air. A pair of practical demonstrations will help landowners learn new ways to examine their property.
Nick January, Geographic Information System (GIS) co-ordinator for the County of Hastings, will demonstrate what landowners can learn about their property using the Hastings County Community Online Maps System.
Chris Droog will demonstrate his "flying camera" drone in action so the audience can admire his aerial videography. In the GIS morning session in Madoc, attendees can be a cartographer. January will walk everyone through the Community Online Maps system, highlighting the easy-to-use, interactive interface with full screen maps.
A user guide will be provided. January will show participants how to access the most recent colour aerial photography (collected in 2013, partnered with Conservation Ontario and the Ministry of Natural Resources & Forestry). Attendees are invited to bring GIS questions and January will provide the latest information. A computer is not required.
In the afternoon, the view will be spectacular. Participants will visit Droog's property in Stirling-Rawdon and learn how to use a small drone to explore and inventory their own land for a new perspective. Droog is a computer technician with ample experience in drone technology. He will take his quadcopter drone for a "spin" over his farm, and then show the audience his videography on a DVD.
Droog will explain all the ins and outs of drone use. He will cover applications, Federal Aviation Administration rules, cost, and available platforms for flight modes. Participants will meet on Saturday, June 18 at 9 a.m. at the Arts Centre Hastings, at 230 Durham St. South in Madoc.
After lunch, people will drive to the farm in Stirling-Rawdon. There will be a brief annual general meeting to acquaint everyone with chapter activities, and the day will wind up at 3 pm.
Source: Community Press