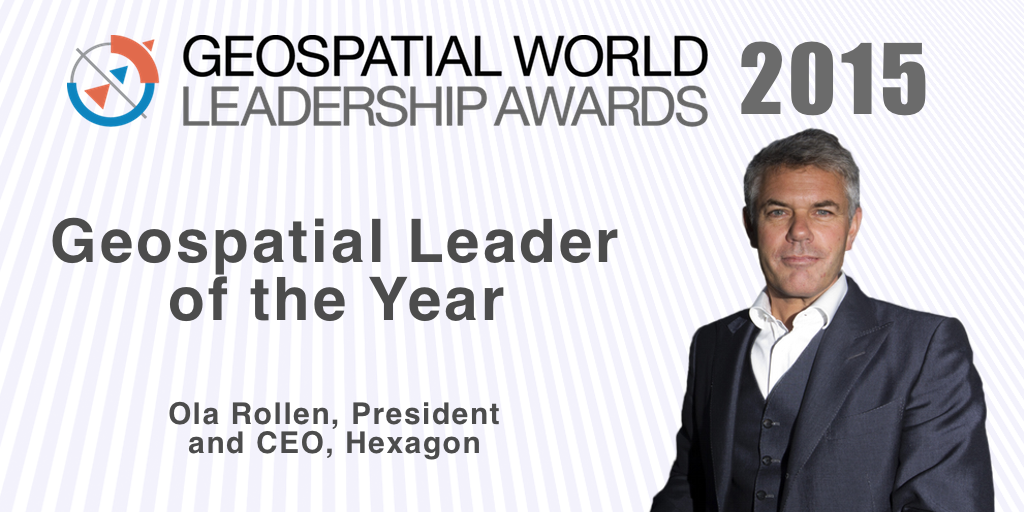 Ola Rollén, president and CEO of Hexagon, has been named 2015's Geospatial Business Leader of the Year. The honor will be presented May 25 during the Geospatial World Forum at World Trade Centre, Rotterdam.
The jury of renowned professionals representing industry, academia, government and multilateral organizations acknowledged Rollén's extraordinary leadership and stewardship in integrating several companies under Hexagon AB that have successfully transformed and aligned with emerging business models. While working towards transformation, his vision has helped various businesses in the company to reduce operational costs and maintain growing profits. Rollén's knowledge and farsightedness have helped Hexagon shape and drive the global geospatial industry through its comprehensive geospatial technology portfolio and end-to-end solutions.
"Ola's instinct to recognize the connectivity between geospatial information, metrology and 3D reality capture has expanded horizons and the scope of the geospatial market worldwide. The past year was a landmark year for Ola, and the world geospatial business community recognizes his vision and contributions. It has been a great honor to witness the advancements he has helped Hexagon bring to the geospatial industry," said Sanjay Kumar, CEO, Geospatial Media and Communications.
"More and more industries are requiring the kind of technologies Hexagon provides to leverage geospatial data and make sense of our dynamically changing world. With decades of experience, new approaches to old problems and product innovations, we're meeting these changes head-on. It is an honor to be named Geospatial Business Leader of 2015, and I look forward to what lies ahead," said Rollén.
About Geospatial Leaderships Awards
Established in 2007, by Geospatial Media and Communications, the Geospatial World Leadership Awards have evolved as the premium geospatial awards and acquired the reputation of being most well accredited global recognition. Categories of these awards are aligned with characteristics and directions of geospatial industry.
About Geospatial Media and Communications
Geospatial Media and Communications is an internationally accredited organization, having committed itself to serve stakeholders of geospatial community and work towards opening new era of industrialization, while facilitating collaboration and demonstrating value and benefits of geospatial technology and information for governance, businesses and people.
For additional information please contact:
Harsha Vardhan
Corporate Marketing Manager
Geospatial Media and Communications
Tel: +91-120-4612500
Email: [email protected]
Web: https://geospatialmedia.net/