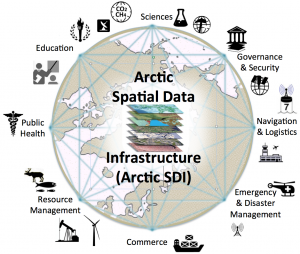 US: The Open Geospatial Consortium (OGC), U.S. Geological Survey (USGS) and Natural Resources Canada (NRCan), in collaboration with the Arctic Spatial Data Infrastructure Participants, have requested for quotation (RFQ) and call for participation (CFP) in the OGC Interoperability Program's Arctic Spatial Data Pilot Phase-2 (Arctic SDP) initiative.
The purpose of these two initiatives is to solicit proposals in response to a set of requirements for the OGC Arctic Spatial Data Pilot Interoperability Program (IP) initiative. Understanding and responding to the impacts of climate change and human activities in the Arctic, a unique area among the Earth's ecosystems, requires accessible and reliable data to facilitate monitoring, management, emergency preparedness and decision making.
The Arctic region is home to indigenous communities and other residents, along with unique flora and fauna, and this region is of increasing interest to the world as a result of their linkage to global climate systems, opportunities for economic development, geopolitical strategic importance, and their environmental importance.
Arctic data are required by residents, the scientific community and other stakeholders to make informed decisions and support research on topics such as climate, atmosphere, land, oceans and ecosystems; and by the operations community to support impact assessments, safe navigation and operations, emergency response, weather forecasting, and climate change adaptation.
These activities contribute to environmental protection, heritage preservation, economic development, safety of life and property, or national sovereignty. The goal of the OGC Arctic Spatial Data Pilot is to demonstrate the power and efficiency of distributed online environments for the exchange of geospatial Arctic data.
Source: OGC