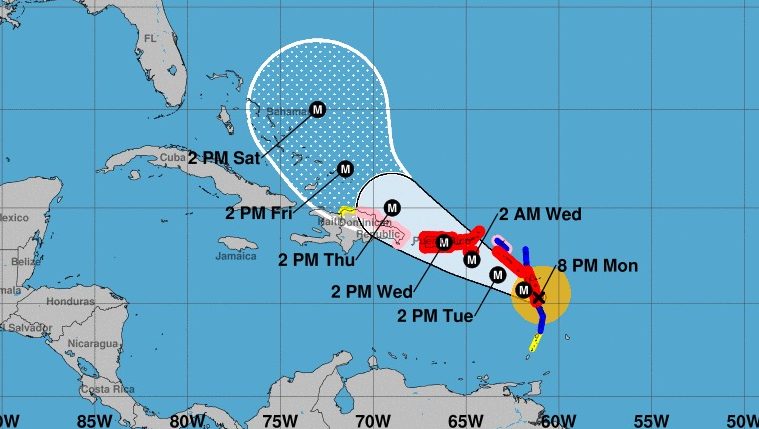 US: Hurricane Maria is now a potentially catastrophic Category 5 in the Atlantic, according to NOAA's latest map updates. Though the maps are leaving many to wonder where it will be headed next, the newest forecasts show the storm making a northward turn, possibly putting Florida in the clear. It's too soon to know for sure, however, so it's a good idea to stay updated on the latest NOAA forecasts and maps.
The map above shows a cone estimating the probable path of the center of Irma. It does not reflect the size of the storm. Any predicted hurricane warnings are in red above, and tropical storm warnings are in blue. Hurricane watches are in pink and tropical storm watches are in yellow. As you can see, the cone does not yet extend to the United States or Florida, because the hurricane is still far away.
As of 8 p.m., Maria had maximum sustained winds of 160 mph. This general motion is expected to continue through Wednesday, the NOAA's National Hurricane Center has reported on Tuesday. The estimated minimum central pressure is 925 mb.
The latest forecast from the National Hurricane Center has Maria's core reaching the Leeward Islands and Dominica over the next few hours, passing over the extreme northeastern Caribbean Sea the rest of tonight and Tuesday, and approaching Puerto Rico and the Virgin Islands Tuesday night and Wednesday. Next is the another map from the National Hurricane Center estimating where the center of the storm will go.