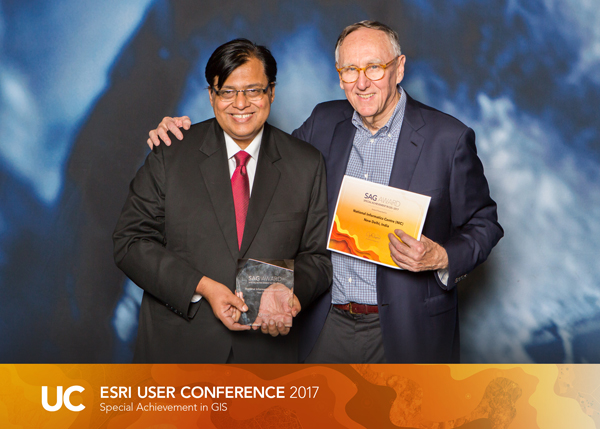 US: At the annual Esri User Conference, the National Informatics Centre (NIC) of the Ministry of Electronics & IT was presented with Special Achievement in GIS (SAG) Award by Esri.
The NIC received the award for its innovative application of technology, data collection, geospatial information visualization, and thought leadership through GIS in the field of e-Government/e-Governance Applications using Information & Communication Technology.
The award was presented by Jack Dangermond, president and founder, Esri to Vishnu Chandra, Deputy Director General and HOG, RS & GIS division and Utility Mapping Division, on 12th July, 2017 at San Diego, California, USA.
"The SAG Awards provide a great opportunity to showcase all the outstanding achievements of our users," said Jack Dangermond, Esri founder and president. "The Special Achievement in GIS Award recognizes exemplary organizations implementing spatial analytics technology to change the world. Highlighting the good work of users—in industries ranging from commerce to government—benefits the entire GIS community, and that's very valuable."
NIC has established Bharat Maps as Cloud Based Multi-Layer GIS Platform to leverage geospatial services for E-Governance & Planning, under Digital India Programme, a major initiative of Government to transform India into a Digitally Empowered Society and Knowledge.
Around Bharat Maps GIS Framework, many applications such as School GIS, Telecom GIS, GIS for Financial Inclusion, various State GIS Frameworks and so on have been established. Also, secure GIS services are embedded within the workflow of various e-governance applications.
"We are greatly honored to receive this prestigious SAG award from ESRI Inc. for the tireless efforts put by NIC and its team in establishing Multi-Layer GIS framework and delivered as Bharatmaps platform" said Vishnu Chandra, Deputy Director General, NIC.