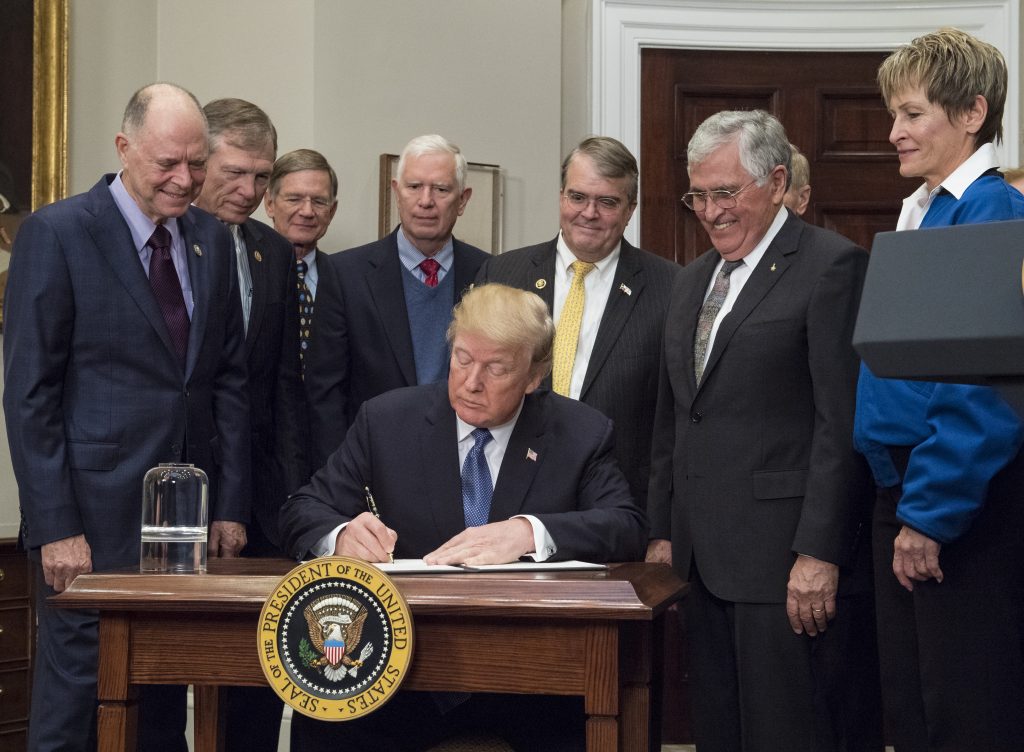 US: US President Donald Trump has signed the White House Space Policy Directive 1, which offers a change in national space policy that provides for a U.S.-led, integrated program with private sector partners for a human return to the Moon, followed by missions to Mars and beyond.
The policy calls for the NASA administrator to "lead an innovative and sustainable program of exploration with commercial and international partners to enable human expansion across the solar system and to bring back to Earth new knowledge and opportunities." The effort will more effectively organize the government, private industry, and international efforts toward returning humans on the Moon, and will lay the foundation that will eventually enable human exploration of Mars.
"The directive I am signing today will refocus America's space program on human exploration and discovery," said President Trump. "It marks a first step in returning American astronauts to the Moon for the first time since 1972, for long-term exploration and use. This time, we will not only plant our flag and leave our footprints — we will establish a foundation for an eventual mission to Mars, and perhaps someday, to many worlds beyond."
The policy grew from a unanimous recommendation by the new National Space Council, chaired by Vice President Mike Pence, after its first meeting was held on October 5. In addition to the direction to plan for the human return to the Moon, the policy also ends NASA's existing effort to send humans to an asteroid. The president revived the National Space Council in July to advise and help implement his space policy with exploration as a national priority.
"Under President Trump's leadership, America will lead in space once again on all fronts," said Vice President Pence. "As the President has said, space is the 'next great American frontier' – and it is our duty – and our destiny – to settle that frontier with American leadership, courage, and values. The signing of this new directive is yet another promise kept by President Trump."
Work toward the new directive will be reflected in NASA's Fiscal Year 2019 budget request next year.
"NASA looks forward to supporting the president's directive strategically aligning our work to return humans to the Moon, travel to Mars and opening the deeper solar system beyond," said acting NASA Administrator Robert Lightfoot. "
This work represents a national effort on many fronts, with America leading the way. We will engage the best and brightest across government and private industry and our partners across the world to reach new milestones in human achievement. Our workforce is committed to this effort, and even now we are developing a flexible deep space infrastructure to support a steady cadence of increasingly complex missions that strengthens American leadership in the boundless frontier of space. The next generation will dream even bigger and reach higher as we launch challenging new missions, and make new discoveries and technological breakthroughs on this dynamic path."