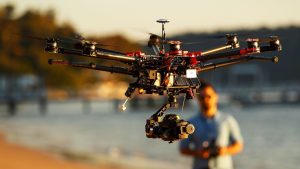 US: The new federal regulations on drones will impact the market positively, according to some market experts and industry observers. The newly laid out rules could generate a business of $82 billion by a major trade group.
However, a member of Pelican chapter of the Association for Unmanned Vehicle Systems international, and president of business consulting firm COTS Technology, R. George Rey Sr. said, he and many others would like to see things move faster. But things always go slowly in the beginning.
"Nationally and locally, I think there's going to be a huge economic boost. I don't think it's going to be immediate. Like anything, it's going to take time," said Danny Landry, co-founder of LandBros Aerial, a Baton Rouge-based drone contractor that serves industrial customers. "For us, it only makes operating a little bit easier."
The FAA is pursuing safety. To ensure that, the agency will employ the same methodology it always does: crawl, then walk before they run, he said. New technologies and drone platforms will be evaluated one by one, and that takes time. Everyone will have to live with that.
LandBros was the first company in Louisiana to secure a commercial drone certification from the Federal Aviation Administration and has been doing commercial drone flights about 18 months. Most of the company's clients are industrial, and its clients safety and reporting requirements are stricter than the FAA regulations.
One improvement in the new regulations is doing away with a requirement to give airport operators at least 24 hours notice, but not more than 72, of a nearby drone flight.
The requirement can limit business, Landry said. For example, in an emergency response situation like a rapidly developing flood, it's difficult to give 24 hours warning.
"For us it's just more efficient. You don't have to file that notice every single day and constantly track that," he said.
In announcing the new rules, U.S. Transportation Secretary Anthony Fox said unmanned aircraft will be "a transformational technology" that will improve crops, lead to safer inspections of critical infrastructure and change the way fires are fought, wild lands are monitored and disasters are responded to.