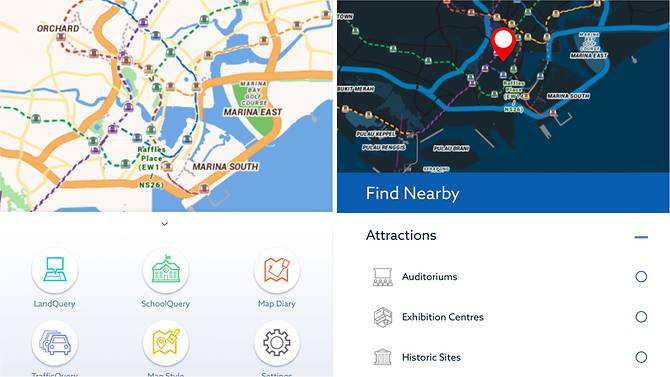 Singapore: The Singapore Land Authority (SLA) on Thursday (Jul 21) rolled out a mobile app version of its integrated map system OneMap offering tips on routes and services across Singapore.
The OneMap app, which is an extension of its existing desktop version, provides a detailed and accurate map of Singapore, with content customized to the local context.
For instance, it can help you find the most sheltered or shortest walking routes using the void decks of HDB blocks, and to locate the entrance and exit points of car parks and buildings for drivers.
The mobile app also lists public amenities and tourist attractions and offers details on transport and recreational facilities island-wide. Users can also use the app to view live traffic conditions and identify land ownership and land lot information.
The platform was built based on open source technology, and is part of the authority's geospatial capacity building efforts.
According to SLA, the app is available for free in both the Apple App Store and Google Play Store, with more features to be rolled out over time.
The integrated map system is a multi-agency collaboration, and can be used by the private sector and members of the public to create value-added services.
The authority also launched a three-month campaign called OneMap IdeaWorks! which invites social organizations and the tech community to co-develop location-based solutions to meet society's needs.
These partners will use OneMap's application programming interface (API) along with around 300 sets of open data sources to develop community-centric solutions.
So far, 19 community organizations and public agencies have shared their needs, including nature interest groups and special needs organizations.
SLA's geospatial and data director Ng Siau Yong cited the example of SG Enable, an agency dedicated to enabling people with disabilities.
"They're looking for solutions and information about where are the wheelchair-friendly places, which are the best and safest route for those who are physically disabled or wheelchair-bound people to move from one place to another," said Yong.
"With the location technology and data, technologists, developers as well as analysts, there could be innovative solutions that will help those in need," he added.
These community partners will work with start-ups and tertiary institutions to develop solutions and apps to meet their needs. Seven content partners have also been roped in to provide data such as satellite imagery, street view photos and geospatial training.
"Crowdsourcing is important in that no one in the world has the best solution," said Mr. Yong. "The best way to find solutions is to put all our minds together, and to look out for the ideas and innovation from the general public. And then we can synergize these ideas and solutions together."
One tertiary institution that has pledged its support to participate in the campaign is Nanyang Polytechnic, which will see students from its information technology, and business intelligence and analytics courses work on the initiatives.
"We already have students who are starting mobile application development, as well as geospatial information systems," said its software and innovation deputy director Melvyn Suan. "We see it as an opportunity to hone their skills in developing applications that can solve everyday issues.
"It is also an opportunity that students are sensitized towards some of the society issues that Singapore is facing today," Suan added.
It is hoped these partnerships will spawn more community-centred apps and solutions, with their working prototypes available by October.
Since its launch as a web portal in 2010, around 400 apps and websites have used the OneMap mapping system for their development.