An Amazon patent recently published online entitled "Drone Marker and Landing Zone Verification" reveals the system the company might use both for guiding delivery drones to their destination and for verifying that the location where a delivery is made is the correct one.
The patent was first filed in 2016 but approval for it was apparently not granted to Amazon until just a few weeks back, on February 5th.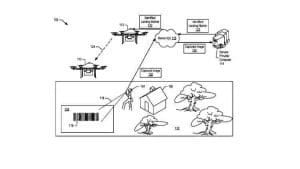 The system described in the patent looks like it would be able to recognize landmarks at a package recipient's address, which could help verify the recipient's location.
The system could also spot obstacles to the delivery, such as a grill, a basketball, or tree branches (examples taken from an image included in the published patent). Detection of obstacles like these would trigger the system to send a message to the recipient's mobile device asking him or her to remove the obstacle.
But one lingering question remains: how would the package actually be delivered once the drone is close enough to the recipient's location to deposit it?
Methods for this step in the delivery process—a crucial step, which has been described by some as one of the biggest technological hurdles yet to be overcome in order to make drone deliveries feasible—include dropping the package with a parachute attached, lowering the package on a tether, or having the drone itself land and set the package down.
Some aspects of completing the package handoff could also include having the drone communicate with the package recipient directly, using the same Alexa-powered speech featured on Amazon's Echo speaker.
One last thing to note about the new patent is that it describes ways that the drone delivery system could access third-party information to verify delivery locations, including architectural information on file with government agencies. A little creepy, but also fairly par for the course in this age of data sharing and disappearing privacy.
OTHER AMAZON DRONE DELIVERY PATENTS
Amazon already has a bevy of delivery-related patents, including many drone delivery ones.Just a few weeks back Amazon announced the imminent rollout of package delivery on public buses, thanks to a new patent they'd recently secured.
Using a unique authorization code, Amazon customers in locations where the new service is offered will be able to track their packages using GPS, and pick up their orders while commuting. According to the patent, this delivery system could prove useful in rural areas where carriers are "rare or prohibitively expensive," while also helping inject cash into public transportation systems that have been losing customers to private companies like Lyft and Uber. In addition to the above patent, Amazon has been securing drone delivery patents for years. In 2017 Amazon made headlines for four new drone-related patents, one of which was for a system that could determine the center of gravity of a package.
These patents also covered different designs for drones, including one with a foldable wing, which could prove useful for vertical takeoff and landing in congested urban areas