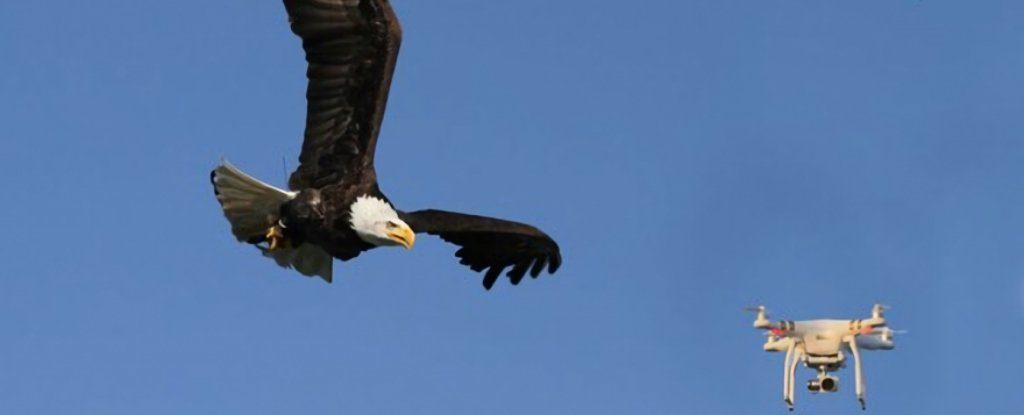 Netherlands: To reduce the security threat flying in the air in the form of UAVs, a Dutch company has started training Eagles to take down drones on command. If succeeded, the idea could be revolutionary. Though it is not the first time when eagles have gone after unmanned aerial vehicles (UAVs), attacks have been happening in the wild ever since amateur drone use became popular.
But now the Netherlands-based company, Guard from Above, is taking things one step further, by training the birds with food rewards to attack small drones, just like guard dogs. The company is calling the remedy as a "low-tech solution for a high-tech problem."
Eagles habitually snatch their prey and drag it off somewhere to eat it, which is exactly what they do with drones, meaning there's no risk of a crash landing. That's enough for police to get interested in what at first sounds like a pretty crazy idea.
As Stephen Castle reports for The New York Times, the Dutch national police force are planning on deploying the eagles "soon", dependent on further field tests. The Metropolitan Police Service in London are also looking into using birds in their drone defence strategy.
And while that sounds a little extreme – after all, drones can do some great things in the world – it's definitely something police these days need to think about. Drones have already been found too close to nuclear power stations in France, and a nuclear submarine facility in the UK.
That doesn't mean they were going to do anything wrong, but last year someone was prosecuted for flying a drone over busy football stadiums and tourist attractions – something that's strictly prohibited by international regulations, due to the risk that a drone could fall, or potentially even be carrying a weapon.
"We have seen a number of incidents around airfields, and, in the end, we want to be prepared should anyone want to use a drone for an attack of some sort," detective chief superintendent of the Dutch police, Mark Wiebes, told Castle.
The problem, of course, is whether or not the eagles can be hurt by this kind of work. That's unfortunately a possibility, but as risky as the whole thing sounds for the eagles, one of the security consultants who started Guard From Above, Sjoerd Hoogendoorn, told The New York Times that safety was the top priority for the animals, and no birds have been seriously harmed so far.
Source: ScienceAlert