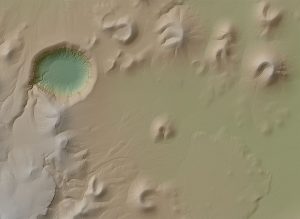 US: The National Science Foundation (NSF) has renewed funding for Open Topography, a science gateway that provides online access to Earth science oriented high-resolution topography data and processing tools.
The award, "Collaborative Research: OpenTopography — A Cyberinfrastructure Facility for Topographic Data, Services, and Knowledge" from the NSF's Division of Earth Sciences, provides $1.365 million during the next two and-a-half years for the third phase of the project (OT3) managed by the San Diego Supercomputer Center (SDSC) at UC San Diego; Arizona State University's School of Earth and Space Exploration; and UNAVCO, a non-profit university-governed consortium facilitating geoscience research and education in Boulder, Colorado.
OpenTopography (OT) provides earth science-related, high-resolution topography to a large and varied user community advancing research and education in areas ranging from earthquake geology to ecology and hydrology. These data are essential for the study of the earth's surface, its vegetation, and man-made structures.
OT3 will extend support for the community-focused data facility by strengthening interoperability, providing a broadened suite of processing and data services, adding new knowledge resources, and ensuring scalability via cloud and high-performance computing (HPC).
Since its launch in 2009, OT has seen a steady rise in data holdings from its partnerships and collaborations within the academic community and beyond. Over the past six years, the OT user community and processing jobs have grown substantially with the addition of new data and algorithms that produce higher-order products of interest to a wide range of users.
These include the resource-intensive TauDEM algorithms for the extraction and analysis of hydrologic information from topography, running on the Gordon supercomputer based at SDSC. Gordon is part of the NSF's eXtreme Science and Engineering Discovery Environment, the most advanced collection of integrated digital resources and services in the world that allows scientists to interactively share computing resources, data, and expertise.